It is a very common experience to pick up a map I've made in GIS (Geographic Information Systems, a software mapping program) and realize that there is no way the stream shown on my map is actually where the stream flows on the land.  Understandably, it's hard to get 100% accurate data for things such as roads and streams. Usually they are close, but sometimes my map looks like an industrial irrigation ditch is running through our land, rather than the natural, sinewy stream that it is. So, that discrepancy sends me out to our lands to GPS the actual location of the stream.
Sometimes knowing the exact location of a stream or road on a map is somewhat arbitrary, but other times it is very important—like when they act as property boundaries.
In the Santa Cruz Mountains, I recently ventured out with a co-worker on one of our lands, walking through some pretty diverse terrain along a stream.  Had it actually been that straight line that it appeared to be on my map, it would have been easy. But this was much more exciting! We walked the edges of the stream, criss-crossing over stones, trying not to fall in. I felt like a kid again, exploring the un-explored and learning a lot more than I imagined. For instance, we came across this fascinating white, stringy substance in the water (see photo). When we got down closer, we were overwhelmed with the distinct, pungent smell of sulphur.  There was a natural sulphur spring right there in the stream!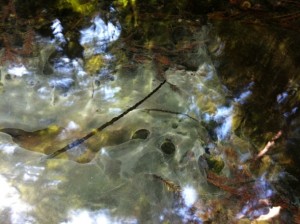 Further downstream we came to an enormous log dam (see photo), created by debris  from a huge storm a few years prior. It was above us, and we had to climb up and around.
One of the most heart-warming moments was seeing the numerous salmon throughout our entire walk.  We saw some as long as 12 inches, and large schools of tiny ones.
Sometimes I am thankful that we need to "ground-truth" streams, roads and other features on our lands, as I never would have spent so much time noticing all of the activity that makes these places so special.
Next time you're out hiking, take some time to focus on the unassuming acts of nature that surround you. Basically, act like a kid and be present–you will see some amazing things!