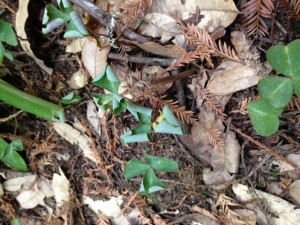 I recently walked with a childhood friend through Armstrong Redwoods State Natural Reserve, one of the only old coast redwood forests left in Sonoma County. It certainly felt like fall, with the sunlight low in the sky as midday approached. Along the trail I saw patches of redwood sorrel, the common herbaceous plant that looks so much like clover.
This unassuming species has always appeared hardy to me as it toughs it out in the shadow of the redwoods, but on this walk I saw signs of stress. Patches of redwood sorrel had curling leaves that appeared crispy. Not all the sorrel was affected, but I was surprised to see such sad sorrel in many places. We've had such a dry year in California and in the redwood forest, it's been way to many months since sustained rainfall soaked the woods. I suspect this has left redwood sorrel dehydrated and without enough water to avoid the warm sunlight that filters down through the forest canopy.
Typically, sorrel avoids the sun by intentionally lowering its leaflets like a folding umbrella to prevent heatstroke when bright sun flecks pass across the forest floor. This sun-avoidance strategy usually protects the plant well, but is only effective when the plant is well hydrated. Instead of sun salutations, the Armstrong redwood sorrel has simply dried out and curled up. Hopefully the rains will come soon and the lovely redwood sorrel will recover. Everybody do a rain dance!
For another observation about of how redwood sorrel reacts to the weather, read Seen Sorrel Cry?