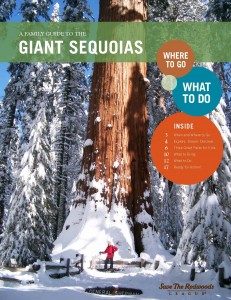 For almost a year now we've worked on developing and producing the first-ever family guide to the redwoods. Initially we were going to produce a single edition, but after the writing and editing were underway, we soon realized that we had so much great information to share—and it would be shame to leave wonderful content on the cutting room floor!
Thanks to many of our Councilors, partners, members, donors and staff, we were able to compile two guides that provide a ton of inside information on where to go, what to pack, and what to do to make the most of this special experience.
After several rounds of edits we are now the proud authors of the Family Guide to the Giant Sequoias and the Family Guide to the Coast Redwoods. In these guides you will find out where the most scenic routes are located, where to find the world's largest sequoias or the tallest coast redwoods, and where to stop for a hearty meal. The family guides are a valuable resource for busy parents, grandparents, family members or guardians who want to plan a fun, memorable adventure into the forest.
We believe that when you bring a child to the redwood forest, you create an experience they'll remember forever—and seeing the forest through a child's eyes can be inspiring for grown-ups, too. I'm looking forward to the day when my almost 5-month-old son, Kyle, is able walk through these magical forests with me.
Download your Family Guide to the Giant Sequoias and Family Guide to the Coast Redwoods today, and please help us spread the word by sharing the guide with all the parents, families and guardians you know.
Let the redwood adventures begin!