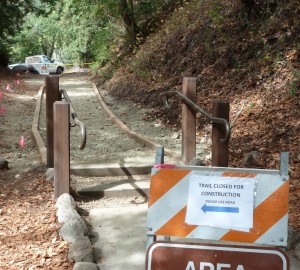 Pfeiffer Falls Trail — the original trail — plunged into a redwood-shrouded gorge, crisscrossed the creek, and ended at a mid-sized waterfall that tumbles over exposed rock and sprays into tranquil water. It was once Pfeiffer Big Sur State Park's most popular attraction — a destination, in fact — but today the trail is closed, as it has been for a long time. Problems began in 2008 when California endured an unusually destructive wildfire season; over 1.3 million acres burned, and fires were so severe that Governor Schwarzenegger sent National Guard Troops to assist firefighters across the state.
Save the Redwoods League helped restore access to Pfeiffer Falls after the 2008 fires by reopening an alternate trail around the hillside, which takes hikers near redwoods, but not under them. But after this tumultuous decade for Big Sur, we can expect a new Pfeiffer Falls Trail to reopen in early 2019, thanks to our funding partners and lots of hard, sweaty work.
As a silver lining, the new Pfeiffer Falls Trail is an improvement compared to the pre-2008 route. Like the original trail, it runs through the gorge and under the redwoods, but hikers won't be traversing the creek, which causes erosion. Instead, a 70-foot bridge will provide visitors with a safe (and scenic!) way to span the ravine. New interpretive panels will line the trail, educating hikers on a range of topics from redwoods and climate change, to the partnership between State Parks and the U.S. Forest Service, whose land abuts Pfeiffer Big Sur.
Over the past year, the California Conservation Corps has steadily chipped away at the new 1.6-mile-long, out-and-back trail. They're carving and leveling parts of the trail that wrap around the ravine, a process called "alignment"; they're constructing broad wooden staircases at especially steep switchbacks; and they're building rock causeways to prevent mudslides in tricky, erosion-prone areas. At the end of this labor-intensive project, they will install handrails and the interpretive panels — and, voila!
Along with more than 40 other redwood state parks, Pfeiffer Big Sur will offer free day-use passes on the second Saturday of each month in 2018, in celebration of the League's Centennial. But while we wait for Pfeiffer Falls Trail to reopen, what other trails are good, you might ask? Visitors should consider taking the Valley View Trail, which follows the ridgeline and ends at an optimal lookout over the valley and distant ocean. (See the view on Google Maps. [external link]) Pfeiffer Falls Trail is an offshoot of Valley View, so in a sense, this route is a sneak preview of the new trail — a way to get even more excited about what's to come.
Plan your trip to the redwoods today and use our free resources!