New 2.3-mile extension of Lost Coast Trail is open! Learn more about our project to restore and protect this magical forest.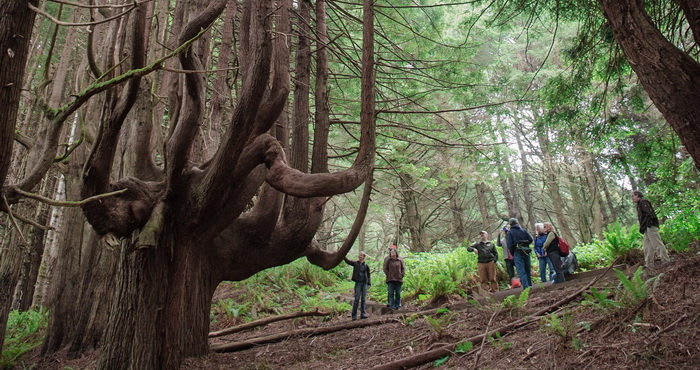 Trail Information
HIGHLIGHTS: Save the Redwoods League owns the remote Shady Dell forest at the southern border of Sinkyone Wilderness State Park. New in 2016, the Peter Douglas Trail is a 2.3-mile extension of the Lost Coast Trail that showcases ancient redwoods shaped like candelabras by wind and salty air.
ACTIVITIES: Access to Shady Dell is limited to hiking the Peter Douglas Trail. Two picnic tables are available. It's best to visit from June through October because the rainy season (November through May) can make roads impassable.
VISITOR CENTER: None.
CAMPGROUNDS: None, but neighboring Sinkyone Wilderness State Park offers primitive campsites at Usal Beach Campground.
TRAIL: The 2.3-mile Peter Douglas Trail features about 50 feet of boardwalk, 231 steps, 30 feet of bridge, six interpretive signs, two picnic tables and three benches. For a hike that's mostly downhill, start at the south end (directions below). Keep an eye out for majestic Roosevelt elks and their tracks. If you hike in the spring, look for the tiny, bright purple flowers of the calypso orchid, the larger deeper purple of the silver bush lupine, or the delicate blue of the forget-me-not. You can also see native blackberries and wild strawberries growing in large patches along the path. The trail culminates in a grove of amazing, ancient candelabra-shaped redwoods. From there, follow the trail to cross Usal Creek, walk out to the beach and enjoy the beautiful views of the wild Lost Coast.
DIRECTIONS: To start at the south end of the trail, from Highway 1, look for the turn-off for Usal Road as you approach mile marker 90.50 (located here 39°46'49.5″N 123°49'54.6″W). Drive up Usal Road for about 45 minutes until you see the trail signs and graveled areas to park on the side of the road (39°48'58.2″N 123°50'23.2″W). To start at the north end of the trail, follow the directions above, but keep driving until you cross Shady Dell Creek and reach the grassy campground in Sinkyone Wilderness State Park ( 39°49'52.9″N 123°50'39.0″W). You can park in the campground and access the trail up to the candelabra grove on the other side of the road. If you reach the Usal Creek bridge, you've gone too far.
MUST-SEE UNIQUE FEATURE OR SEASONAL HIGHLIGHT: Watch your step in May and June! Poking up through the leaves and sticks on the forest floor of Shady Dell are the pink, white and red mycotrophic flowers sugarstick, gnome plant, spotted coral root and wintergreen. Mycotrophs depend on fungi for food, unlike green plants, which make their food from sunlight, water and carbon dioxide. Learn more about these unusual plants on the US Forest Service (external link) mycotroph page.
HIDDEN GEM: On a steep slope at the north end of the trail stand scores of ancient redwoods shaped into grand candelabras by salty air and coastal winds. Instead of growing into massive straight columns, stressors caused these trees to sprout branches near the ground that droop like velvet ropes in a theater. Then when conditions improved, the branches grew straight up.
FEATURES ACCESSIBLE TO PEOPLE WITH DISABILITIES: None.
DOGS: Allowed on leash.
ENTRANCE FEE: None.
MORE INFORMATION: Visit our Shady Dell project page, email Outreach@SaveTheRedwoods.org, or call Save the Redwoods League at 415-362-2352.
---
Trip Ideas from Our Staff and Friends
SUGGESTED ITINERARIES:
If you have an hour: You may want to save the Sinkyone for another trip. Both the north and south entrances are a long drive from the main highway—some of it on narrow, winding dirt roads.
If you have half a day: Drive to Needle Rock Visitor Center and hike north to Jones Beach and back.
If you have a full day: Drive to Needle Rock Visitor Center and hike north to Whale Gulch and back. Or hike south to Wheeler and back.
If you have several days: Backpack 19.4 miles of the Lost Coast Trail, from Usal Beach to Needle Rock. Or go all the way to the Mattole River in the King Range Conservation Area—a distance of more than 50 miles.
EAT: If passing through Garberville, try the biscuits and gravy at the Eel Cafe (external link).
If you're passing through Fort Bragg, Regan Ranoa, Outreach Manager, suggests the North Coast Brewing Company (external link) for a great place to grab some chow and taste the local beer. For a lovely view of the Noyo Harbor, try Silvers at the Wharf (external link).
STOP: In Fort Bragg, Regan recommends stopping for a lovely train ride on the historical Skunk Train through the ancient redwood forest (external link).
FAVORITE HIKE: Serious outdoor enthusiasts should try the Lost Coast Trail, which travels the length of Sinkyone State Park north through King Range National Conservation Area. The 60-mile trail makes an ideal week-long backpacking adventure.
FAVORITE PARK ATTRACTION: The wildlife and the sea! Roosevelt elk, harbor seals, sea lions, gulls and pelicans are all here.
Tell us your favorite stops, hikes, places to eat, and more when visiting this park!
---
Nearby Redwoods Events
Browse all Events & Activities.
For more hikes, conservation news and redwood facts, sign up for our free enewsletter.
---
---
Share Your Experiences/Ideas about this Park