League protects more than 3,100 Acres of Threatened Coast Redwoods, 5 Miles of Northern California Coastline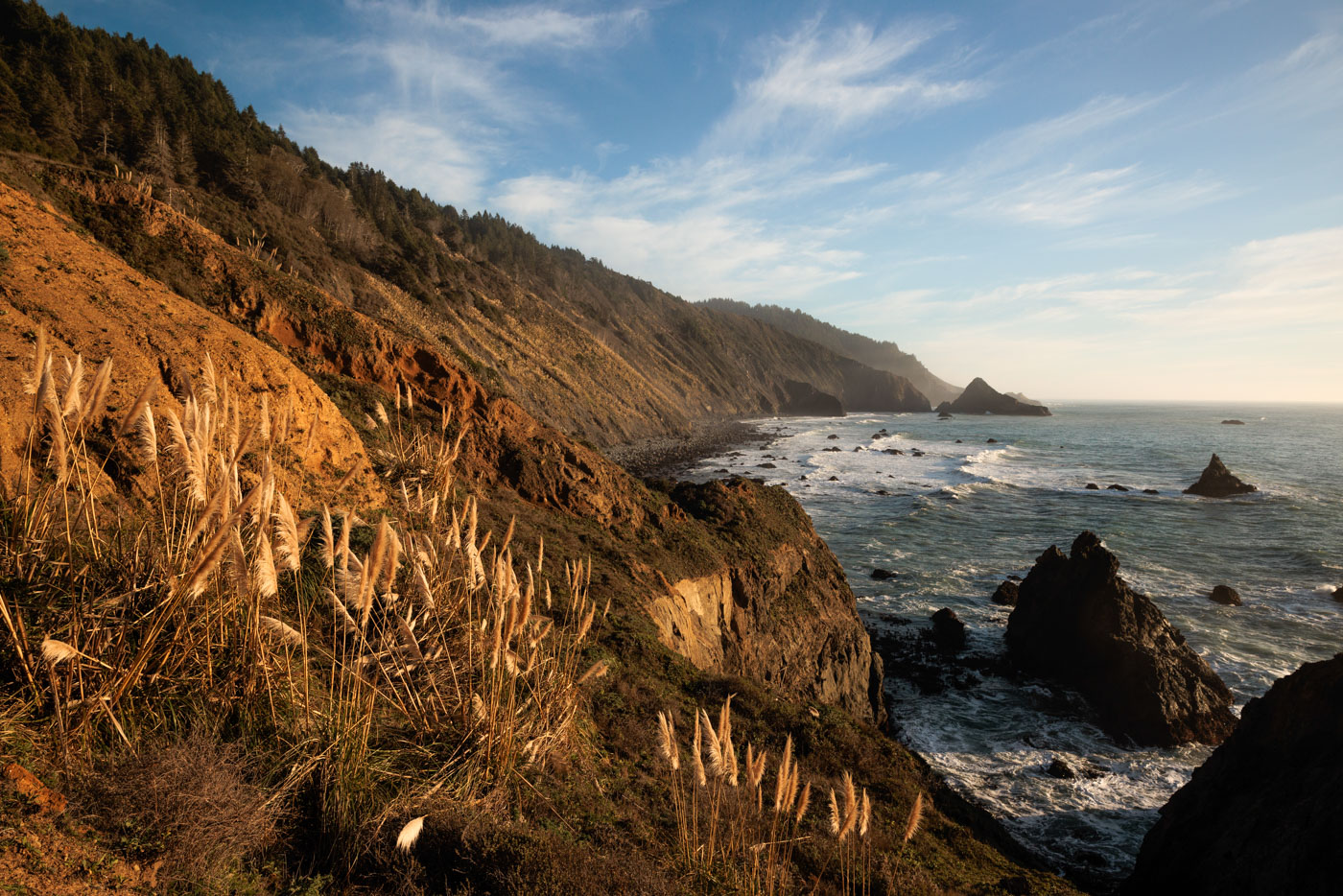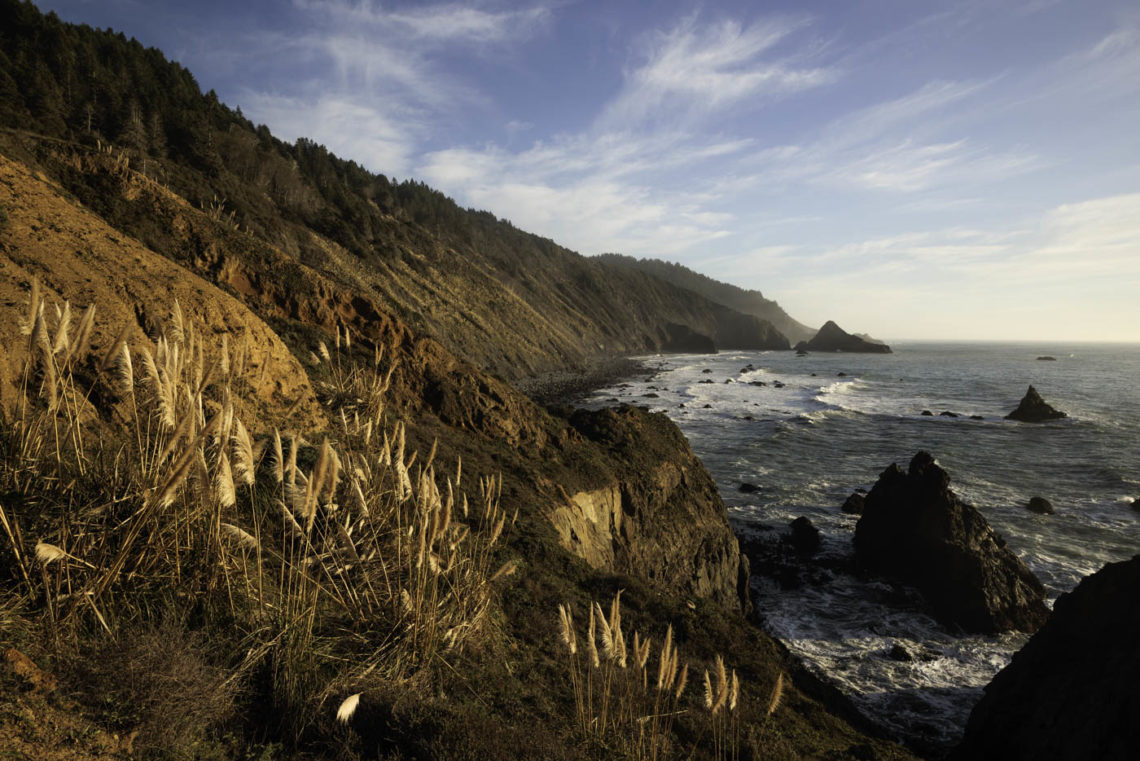 Where Highway 1 leaves the shore, the Lost Coast begins.
For more than a century here, 5 miles of the California coast and more than 3,100 acres of lush coast redwood, Douglas fir, and grand fir forest, coastal prairies, and steep bluffs overlooking the vast seascape had been private and inaccessible. Save the Redwoods League acquired the land in December 2021. Now known as Lost Coast Redwoods, it is the largest privately owned California coastline in the coast redwood range.
With 48 miles of its 57 miles of coastline protected — including King Range National Conservation Area, Sinkyone Wilderness State Park, and the League's Shady Dell property — the remote Lost Coast is a cultural and ecological gem. As part of that mosaic of protected lands, Lost Coast Redwoods will benefit future generations through greater climate and fire resilience across the landscape, carbon storage, biodiversity, and prospectively, public access to an extraordinary stretch of the Pacific coast. This acquisition supports the goals of the nation's America the Beautiful Initiative, which aims to protect at least 30% of the United States' lands and waters by 2030.
A Lush Landscape by the Sea
For its breathtaking beauty and mystique, the Mendocino coast has long been a special place for tribal communities, locals, and visitors. Beneath the canopy of its verdant forests, the lands and waters support an abundance of life. Roosevelt elks, black-tailed deer, and mountain lions roam the landscape in and around Lost Coast Redwoods. The property provides suitable habitat for northern spotted owl, marbled murrelet, and Pacific fisher, and healthy streams for coho salmon and steelhead trout—all of which are listed under the Endangered Species Act.
Cottaneva and Dunn Creeks traverse Lost Coast Redwoods, and both have been identified by the California Department of Fish and Wildlife as critical habitat for spawning and rearing juvenile fish. The streams also support other plant and animal species of special concern, such as seaside bittercress, Whitney's farewell to spring, Point Reyes horkelia, foothill yellow-legged frog, Pacific tailed frog, and Southern torrent salamander. Offshore, the Double Cone Rock State Marine Conservation Area buffers this sensitive coastline, protecting the ocean ecosystem's resilience, biodiversity, and cultural resources.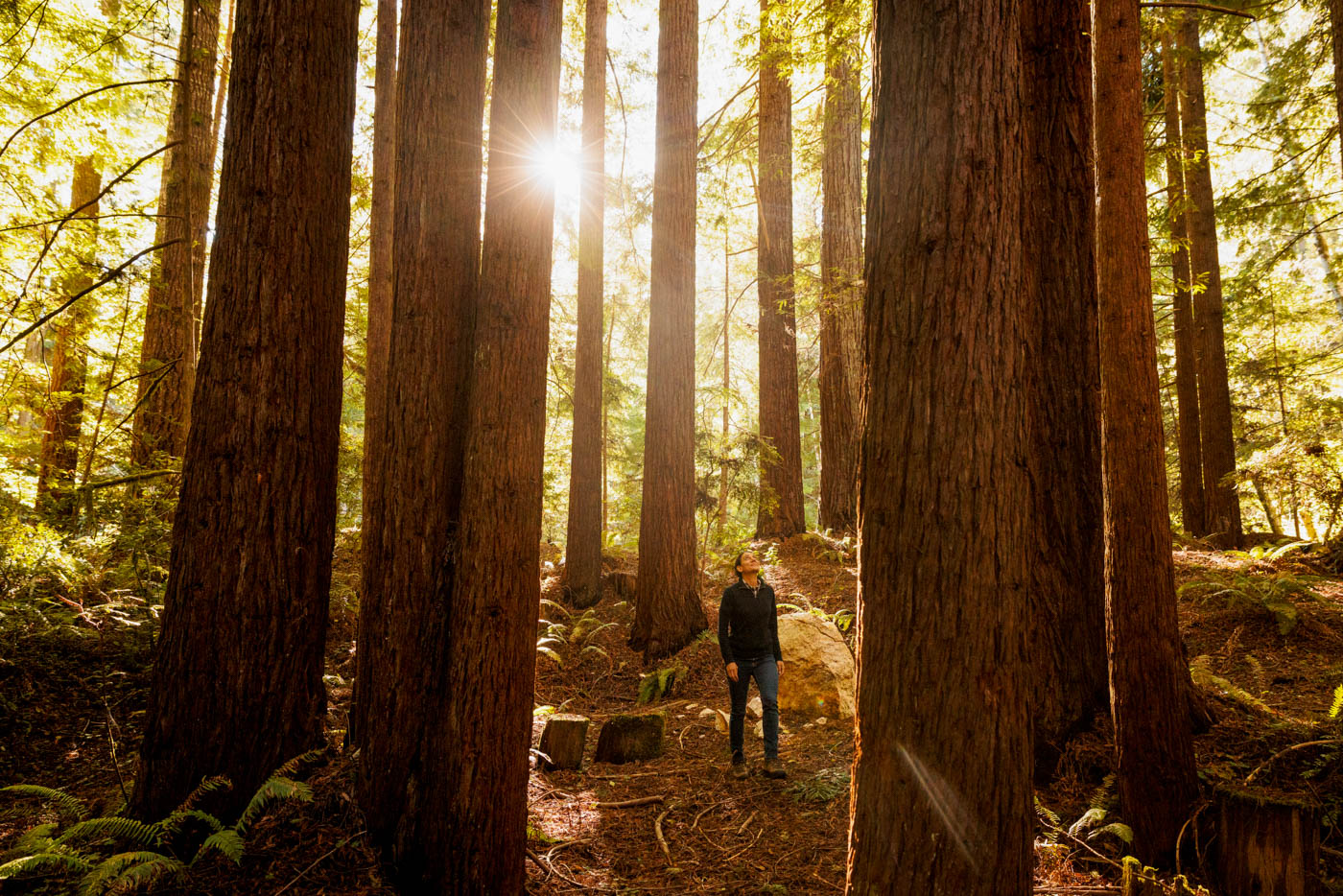 Protecting a Young Forest
Since the 1840s, 95% of California's original old-growth redwood forests have been logged. Of the state's remaining 1.6 million acres (about 2,500 square miles) of coast redwoods, more than 1.5 million acres are recovering forests that have been logged at least once. Much of that acreage is managed as commercial timberland. Per the League's Vibrant Forest Plan, the southern Lost Coast region is a high conservation priority because of its expansive second-growth redwood forests, which can provide high-quality habitat and significant carbon storage.
Zoned for timber and agricultural management, the Lost Coast Redwoods property contains large trees ranging in age from 80 to 100 years and amounting to millions of board feet of high-quality timber. Given its proximity to Highway 1 and well-maintained interior roads, the land faced an immediate threat of aggressive logging if acquired by another buyer that does not share the previous owner's value of sustainability.
Soper Company owned this property, known to the company as DeVilbiss Ranch, and managed it for timber production since 1963. For decades the company supported habitat and biodiversity through ethical stewardship and led the timber industry in science-based innovation and land management practices that foster sustainable forests. The company transitioned parts of the forest back to redwood, which had been replaced by other species due to long-ago harvests, and restored salmon habitat. In choosing to give Save the Redwoods League the opportunity to protect this land, Soper Company took another big step in its good stewardship, securing the health of this forest for generations to come.
A Vision of Healthy, Resilient Redwood Forests for All People
Having led in the protection of most of California's remaining old-growth redwood forests in the last century, the League's vision for the next hundred years focuses on three high-level objectives: protecting young, recovering forests like Lost Coast Redwoods as puzzle pieces to re-create a contiguous, healthy redwood landscape; restoring the natural resilience and stature of the redwood forests; and connecting people with redwood parks that bolster community well-being and recreational tourism for local economies. Save the Redwoods League is committed to supporting the regeneration of this coastal forest ecosystem for the health and connectivity of this land and adjacent landscapes, and providing opportunities for local and tribal communities to participate meaningfully in the long-term stewardship and enjoyment of this place.
While the League's research has found that old-growth coast redwoods store more carbon per acre than any other forest types, we also know that young redwoods can grow very quickly; some trees grow more than 200 feet tall in less than a century. Therefore, they can store a substantial amount of carbon in their wood in a relatively short period. By restoring young forests, we can help ensure Californians benefit from their carbon storage immediately and in the long term.
Lost Coast Redwoods is a place where the traditional territories of the Sinkyone, Cahto, and Coast Yuki peoples converge. For many thousands of years, they inhabited, cared for, and interacted with the land and adjacent marine waters through relationships of reciprocity that enabled abundance and biodiversity. Indigenous peoples retain inherited roles as the guardians of this region. In the mid-1800s they were subjected to widespread acts of state-sanctioned genocide and forcibly removed by the U.S. military and European American settlers. In accordance with the America the Beautiful Initiative and the League's values, we acknowledge that tribal communities must be recognized as partners in the stewardship and management of Lost Coast Redwoods.
Adjacent to the League's Shady Dell property and within a quarter-mile of our Cape Vizcaino property, this land provides an opportunity for the League and public agency partners to extend the famed Lost Coast Trail and the California Coastal Trail. By potentially opening up 5 miles of scenic trail along a once private coast, we can enhance the visitor experience on the spectacular Mendocino Coast for the many people who flock to California to explore its iconic beauty and inspiring landscapes and seascapes.
Save the Redwoods must continue to raise a total of $43.4 million in support of the acquisition and stewardship of the property during League ownership.
Lost Coast Redwoods is a flagship project of
Forever Forest: The Campaign for the Redwoods
, a comprehensive campaign launched by Save the Redwoods League in January 2020 to garner support for the organization's ambitious vision for the next century of redwoods conservation. The League's goal is to raise $120 million by 2022 to fund the first years of this centennial vision, which includes protecting entire landscapes through large-scale, strategic land acquisitions; restoring young redwood forests to become the old-growth forests of the future; and connecting all people with the beauty and power of the redwoods through transformational park experiences.
This feature appears in the beautiful printed edition of Redwoods magazine, a showcase of redwoods conservation stories by leading scientists and writers, as well as breathtaking photos, and ways you can help the forest. Only a selection of these stories are available online.
Join our thousands of members today for only $25, and you'll get future editions of our Redwoods magazine.