Board member John Scharffenberger builds support for the League's efforts to nurture the ancient forests of the future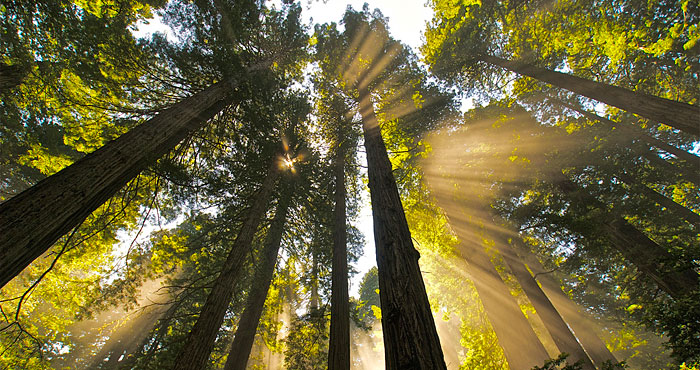 When John Scharffenberger was climbing redwoods on the campus of the University of California, Berkeley, in the early 1970s, the ostensible reason was to escape the tear gas and police during protests, but it was also because he felt comfortable and safe in the tall trees. It was a relationship he brought with him to Northern California from his origins in Rolling Hills, a rural area in southern Los Angeles County.
"My father had a big piece of property and he grew all kinds of plants," says Scharffenberger, a Save the Redwoods League Board of Directors member and Chair of Forever Forest: The Campaign for the Redwoods. "We grew redwoods, and I was always amazed at how quickly they grew if you watered them. I just loved being around them."
That appreciation grew stronger when he moved up north and encountered them in their natural range. And he started connecting the work of Save the Redwoods League to some of his favorite places: the redwoods lining Highway 128 (which runs through Mendocino, Sonoma, and Napa counties); Hendy Woods State Park; and parks around the San Francisco Bay Area and in the Santa Cruz Mountains.
"What's really big for me now is restoration," he says. "Everyone loves the old growth, but we've got a million acres of previously logged second growth struggling to grow back to old-growth forest."
On his Anderson Valley ranch, Scharffenberger continues the work he learned from his father: cultivating and growing. Only now a lot of his work is spent returning his redwoods to a path where they can become the old-growth giants of the future.
"I probably spend half my time just walking around and looking at these trees," he explains. "When I see a healthy redwood forest, I just breathe in and sigh. It feels right; it feels like it's in balance."
Not content with just ushering his own redwoods into the future, Scharffenberger is leading the charge to build support for the League's efforts to regrow the great redwood forests of California's past.
"Redwoods are special," he says. "They've had 200 million years of evolution, and are so old, so tolerant. Everyone just feels a tremendous connection."
Save the Redwoods League recently celebrated Scharffenberger's generosity and philanthropic leadership after he was honored with this year's Spirit of Philanthropy Award from the Association of Fundraising Professionals.
---
This feature appears in the beautiful printed edition of Redwoods magazine, a showcase of redwoods conservation stories by leading scientists and writers, as well as breathtaking photos, and ways you can help the forest.
Join our thousands of members today for only $25, and you'll get future editions of our Redwoods magazine.