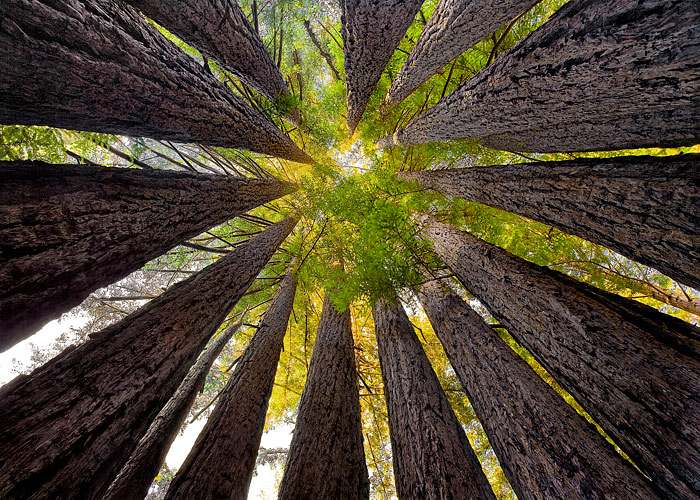 Among those Legacy Circle members whose gifts have contributed to the success of the Forever Forest Campaign are three special individuals who, through their commitment to conservation and philanthropy, have made a tremendous impact on the League's mission to protect and restore California's iconic redwood forests.
---

Anne-Jennifer (Jenny) Velinty of Florence, Oregon, was a steadfast supporter for 20 years. A native of England and a physical therapist and an orthopedic nurse for over 40 years, Jenny is remembered for her generosity and lifelong appreciation of nature. Her bequest helped protect Cascade Creek, an important redwood forest in the Santa Cruz Mountains that Save the Redwoods League purchased last year. We are pleased to honor her wish that a redwood grove be dedicated in her memory and are grateful to Jenny for sharing our vision to protect the redwoods.
Daniel Gallie of Riverside and Claremont, California, was a professor and researcher in biochemistry and molecular biology at the University of California, Riverside. Originally from Michigan, he relocated to California for graduate school at the University of California, Davis, and began a lifelong love and appreciation for the redwoods. While undergoing cancer treatments, Dan and his husband John McCabe visited several League properties, and his curiosity and passion for nature made these special memories for all involved. Dan's enthusiasm for redwoods conservation lives on in support of the Redwood Genome Project, an initiative of the Forever Forest Campaign to sequence the coast redwood and giant sequoia genomes to guide forest restoration.
Cynthia Meyer Grubb of San Francisco was a tireless volunteer leader of the League for over 50 years, serving as a Board Member, Councilor and Honorary Councilor. After completing a master's degree in Elementary Education at Cornell University, Cynthia came to California in 1955 to teach in Palo Alto. She and her husband Ted loved backpacking in the Sierra Nevada, and she shared her love of the redwoods with her entire family. Cynthia included the League in her estate plans because she appreciated our conservation approach and 100-year track record of protecting redwood forests. Trusting the League to direct her bequest where it is needed most, Cynthia's legacy gift will help us meet the challenges in our second century.
---
This feature appears in the beautiful printed edition of Redwoods magazine, a showcase of redwoods conservation stories by leading scientists and writers, as well as breathtaking photos, and ways you can help the forest.
Join our thousands of members today for only $25, and you'll get future editions of our Redwoods magazine.