From fanciful trees and hidden swimming holes to dramatic coastline vistas, the southern end of the coast redwood range beckons along Highway 1.
The quintessential scenic route
I love a road trip because it's that old adage in motion: Life is a journey, not a destination. That's Big Sur—a journey, the quintessential scenic route.
The first time I ever experienced the magic of a coast redwood forest was years ago passing through this winding, cliff-hugging stretch of California State Route 1, also known as Highway 1. Here on Esselen and Rumsen tribal territories, at the southern edge of the Sequoia sempervirens range, Big Sur redwoods vibrate with their own special kind of energy. There is an elemental force here, embodied by the staggering trees standing sentinel above the infinite blue of the ocean and sky, and absorbed into the psyche through the salty, kelp- and campfire-scented air.
Answering the call of weekend wanderlust, some travel mates and I made the three-hour drive from the San Francisco Bay Area to Big Sur (last February, before the coronavirus-related travel restrictions). Named for the pioneer family that conveyed to the state of California a key piece of land here, Pfeiffer Big Sur State Park is home to some of the region's most impressive redwoods. For those who are just breezing through, the ADA-accessible Redwood Deck adjacent to the Big Sur Lodge is less than a quarter-mile from the highway and showcases some of the park's largest trees.
We stroll from the lodge and cross the Big Sur River to the South Camp, where we post up and picnic at campsite 44, in the shadow of a few redwoods. With more than 180 RV and tent sites, the Pfeiffer Big Sur campground fills up fast in the spring and summer, so it's a good idea to book far in advance. Many of the spots are either near the river or shaded by redwoods, so it's hard to go wrong. For those not into roughing it, the campground does have bathrooms with flush toilets and token-operated showers.
After lunch, we walk along the river on a paved, redwood-lined path featuring plenty of old-growth trees with swordferns and redwood sorrels at their feet. Crossing beneath the highway, we head up the moderate Buzzard's Roost Trail; it starts out pretty mellow then picks up as we climb seemingly endless switchbacks, stripping off outer layers of clothing as we go. Near the top of the loop trail, the redwoods give way to manzanita trees and a sun-drenched peak. Above the clouds, we take in some hazy panoramic mountain views before returning to camp around twilight.
ROLL RIGHT UP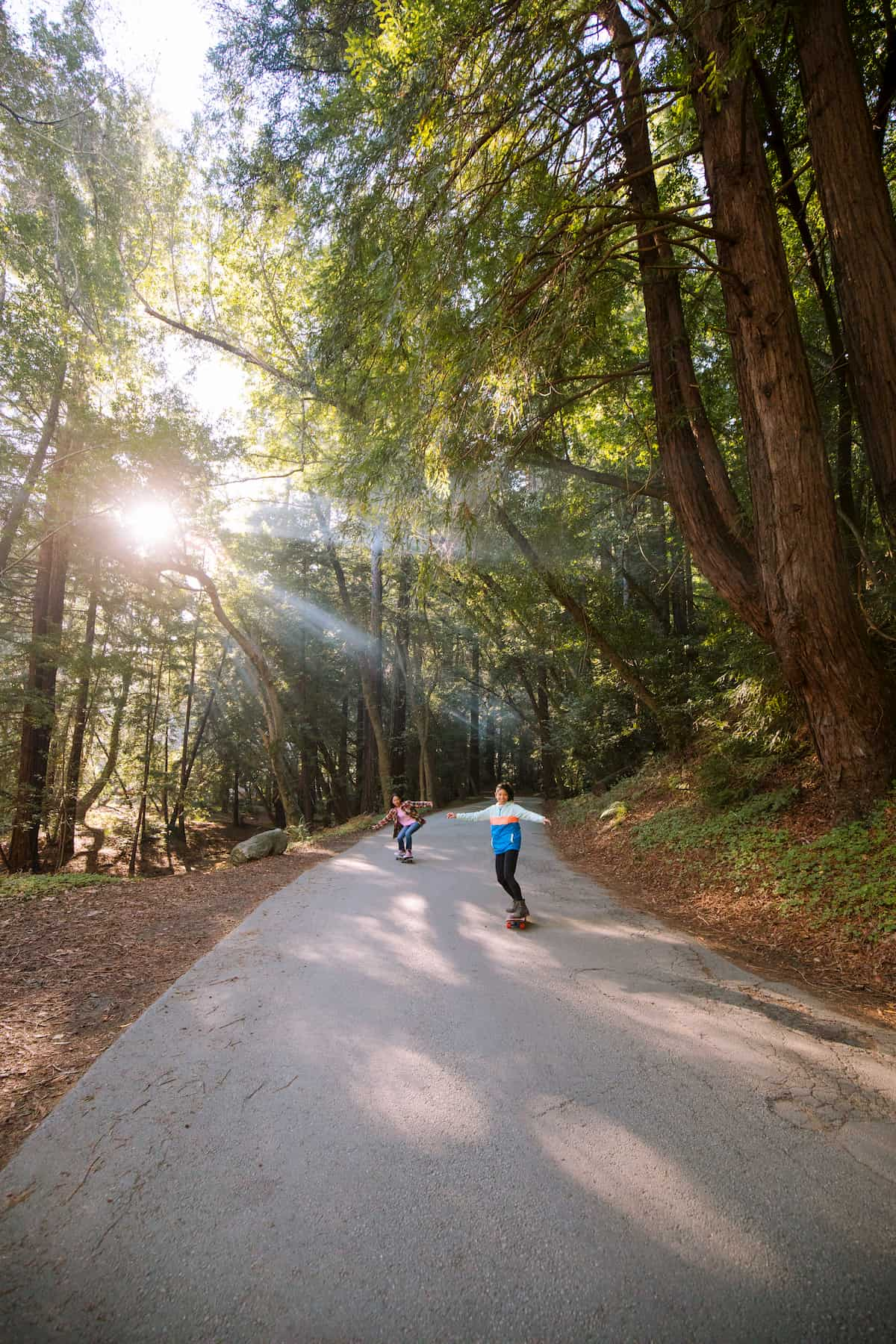 In the morning, we cruise the campground roads on our skateboards, wheels gliding smoothly atop cool asphalt. Skateboarding through the redwoods might seem like an unconventional way to experience nature.
For me, it evokes the ultimate feeling of freedom and vitality.
I'm sure road cyclists would echo that sentiment; a paved road through the redwoods is a rare kind of playground that's elusive in cities. Wheelchair users also can more easily tap into the sights and sounds of the redwoods thriving along the river. And these roads can take our elders along for the ride by car, when a long walk might not be possible. Pavement is a sort of equalizer, and that's a beautiful thing—especially at this particular moment, with the sunbeams filtering through the trees in all their glory.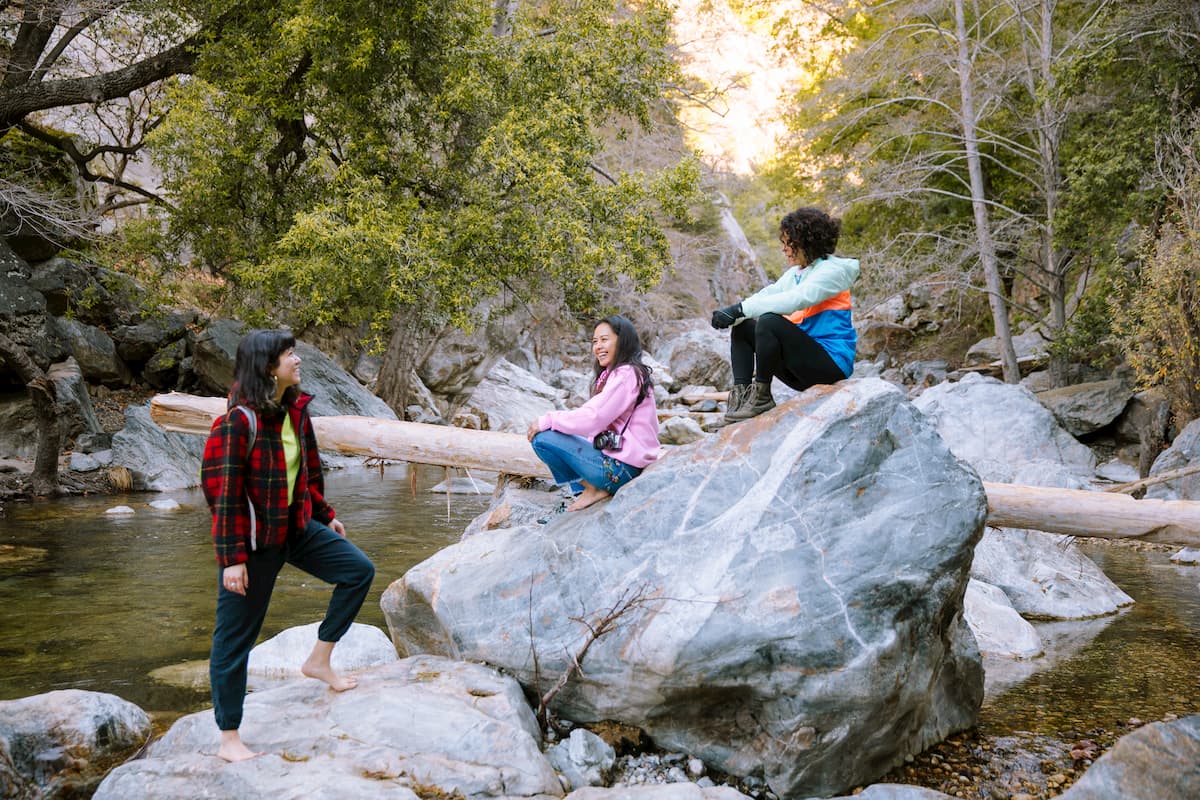 Though it's still chilly enough to see our breath in the morning sun, we traverse the campground in search of the swimming hole at the Big Sur River Gorge. The trail starts between campsites 111 and 112; there's also access from Day Use Lot 3. Less than a half-mile in, the trail ends next to the river. From there, intrepid hikers can follow an unmaintained path along the water's edge, climb over boulders and tree trunks, and then wade or boulder-hop across to continue the rest of the way upriver to a natural pool enclosed by granite walls. On this day the water's too high—and too cold—to get across. The trek is easier and more rewarding during summer, although warmer temperatures also bring bigger crowds craving a cool dip.
On our way out, we stop by the Colonial Tree, protected by a wooden fence between Day Use Lots 3 and 4. We almost don't recognize it as a redwood because of its low-hanging branches. Estimated to be around 1,100 years old—meaning it could have been alive when the Mayan civilization collapsed—it's the park's biggest and probably oldest redwood.
COVES OF DELIGHT
Winding down Highway 1 to Julia Pfeiffer Burns State Park takes less than 20 minutes. We pull off on the side of the road at the trailhead for Partington Cove. The descent features endless views of the glistening ocean. In the canyon, there are whimsically shaped redwoods along Partington Creek; one reminds me of a porcini mushroom, stumpy and rotund at the base with an umbrella-like canopy.
Across a rustic footbridge, the path leads to a tunnel to the secluded aquamarine waters of Partington Cove. Basking in the sea spray and golden light, we watch for sea otters, but spot only deceptively animated driftwood logs and a lone cormorant. We descend onto craggy rocks with tide pools inhabited by sea anemones.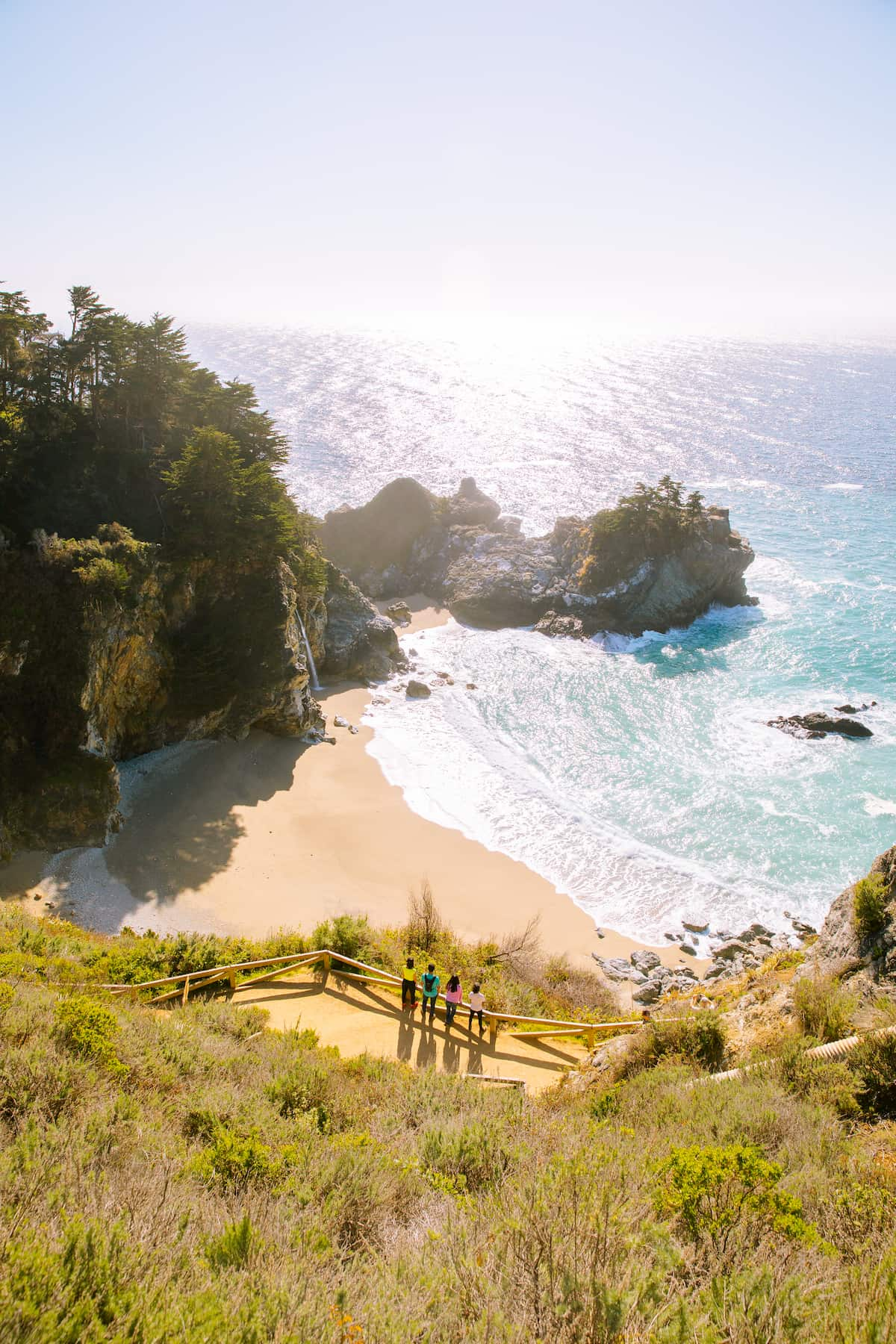 South of Partington Cove, McWay Falls is visible from the shoulder of the highway. One of Big Sur's most famous attractions, this pristine cove with an 80-foot waterfall—also known as a tidefall during high tide when it flows straight into the ocean—is worth a closer look by entering Julia Pfeiffer Burns State Park and crossing through a tunnel beneath the highway. On any given day, crowds of people gather here to admire the protected, inaccessible cove from afar.
Homeward bound, I let my eyes wander from the highway ahead—to the vast azure seascape, to the horizon, to the sky. And then … "A California condor!" I yell to my travel mates just before it disappears behind a ridge. To the untrained eye, it could very well be a ubiquitous turkey vulture, but I know what I see: a long, narrow strip of white across the top half of the wing undersides (whereas turkey vultures have gray feathers along the bottom half of the wing undersides).
We pull over, jump out of the car, and crane our necks to the sky. The giant bird soars back over the ridge into our view, its wingtips upturned in the wind. Spotting this elusive endangered species is exhilarating—proof that at any moment along this stretch of Highway 1, the place's magic can be revealed, if you look for it. Big Sur is a journey, a spirit, a state of mind. That's why I always return, and I will again and again.
Know Before You Go
PFEIFFER BIG SUR AND JULIA PFEIFFER BURNS STATE PARKS
Highlights:
The Redwood Deck at Pfeiffer Big Sur State Park features some of the area's largest and oldest redwoods. The Colonial Tree between Day Use Lots 3 and 4 is estimated to be 1,100 years old.
Hidden Gem:
The Big Sur River Gorge swimming hole in Pfeiffer Big Sur is a one-mile hike from the trailhead between campsites 111 and 112, or from Day Use Lot 3.
Trails:
Pfeiffer Big Sur has nearly 38 miles of trails. The Pfeiffer Falls Trail, once Pfeiffer Big Sur's most popular trail, has been closed and under construction since it was damaged in the 2008 Basin Complex fire. Subsequent fires and landslides from heavy rains delayed the reopening for several years. Save the Redwoods League partnered with California State Parks to reimagine a new trail to Pfeiffer Falls with long-term protection of the ecosystem in mind. Construction is in the last stages on the half-mile trail, which will feature benches, a new 70-foot-long footbridge, and a walk through the redwood canopy. The trail will complete a two-mile loop with the Valley View trail.
Julia Pfeiffer Burns State Park has more than 13 miles of trails. Check the park websites for trail closures.
Dogs:
Dogs on leashes no longer than six feet are welcome on paved roads and in developed campgrounds and day-use areas, but are not permitted on hiking trails or in the river.
Best Time to Visit:
Year-round.
Locations:
Both on Highway 1. Pfeiffer Big Sur is 26 miles south of Carmel; Julia Pfeiffer Burns is 12 miles south of Pfeiffer Big Sur.
Day-Use Fee:
$10 per day for vehicles.
Camping Fees:
$35-$50 per night at Pfeiffer Big Sur; $30 per night at Julia Pfeiffer Burns' two hike-in sites.
Lodging:
Big Sur Lodge in Pfeiffer Big Sur offers 62 cottage-style rooms, a store, restaurant, outdoor pool, and bar.
Transit:
The 22 Big Sur-Monterey bus goes from the Monterey Transit Plaza to Pfeiffer Big Sur daily in summer, and on Saturdays and Sundays only after Labor Day to Memorial Day weekend. Visit mst.org.
Learn More:
Visit the parks' web pages, or call 831-649-2836.
Plan Your Trip:
Visit ExploreRedwoods.org.
---
This feature appears in the beautiful printed edition of Redwoods magazine, a showcase of redwoods conservation stories by leading scientists and writers, as well as breathtaking photos, answers to readers' questions, and how you can help the forest.
Join our thousands of members today for only $25, and you'll get future editions of our Redwoods magazine.