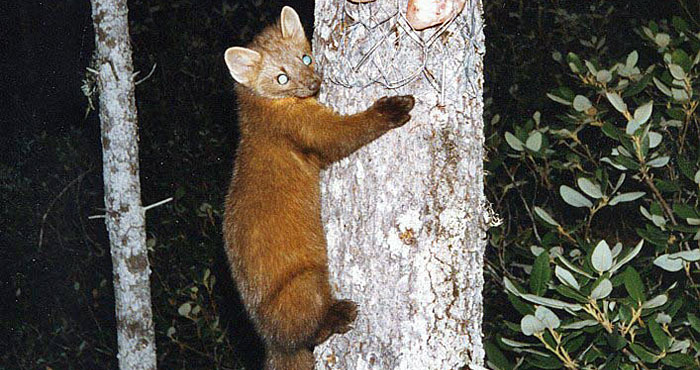 Did you know that redwoods are not only highly resistant to fire but are nearly indestructible? Just one year after devastating fires, redwoods that had been scorched were already covered with the green fuzz of new foliage. Are you aware that installing rest boxes (like birdhouses) on trees can help save members of the weasel family known as martens? These agile creatures are redwood forest dwellers that have nearly vanished. Learn more interesting facts by reading seven new articles about research funded by your gifts.
Save the Redwoods League studies redwood forests and surrounding land and waterways to understand how to best protect them and what the forest's long-term survival means to the health of people and our planet.
We share what we learn about redwoods through our education and research programs so that everyone has the opportunity to study and be amazed by this unique forest. In addition, we use our new knowledge to shape our conservation work.
New Research
These studies explore elements of the forest that depend on each other, including plants and animals.
Black Salamanders Show Biodiversity of Redwood Forest-Every three years or so, two types of black salamanders, a black one and a frosted one, out of a population of hundreds of thousands, interbreed.
Forest Restoration through Thinning-A Mill Creek experiment found that heavily thinned sections of forest are the best environments for redwood growth.
Redwoods Regrow after Fires-Redwoods prove to be highly resistant to fire and regrow foliage just one year after devastating forest fires.
Redwood Forest Restoration and Martens-Martens are an agile, 2-foot-long member of the weasel family and require ancient forests to survive.
Redwood Forests May Be Crucial for Silver-Haired Bats-Mating habitat is critical to the conservation of this species.
Promoting Giant Sequoia Regeneration-Giant sequoias may require controlled fires to regrow.
Fire Intensity Likely Higher in Forests Hit by Sudden Oak Death-Tanoaks are important in coast redwood forests, adding (among other benefits) acorns, which animals depend on for food. Afflicted by the disease "sudden oak death," tanoaks may soon be adding fuel to coastal fires.
---