Restoration of Old Forest Features in Coast Redwood Forest Using Early Stage, Variable-Density Thinning
on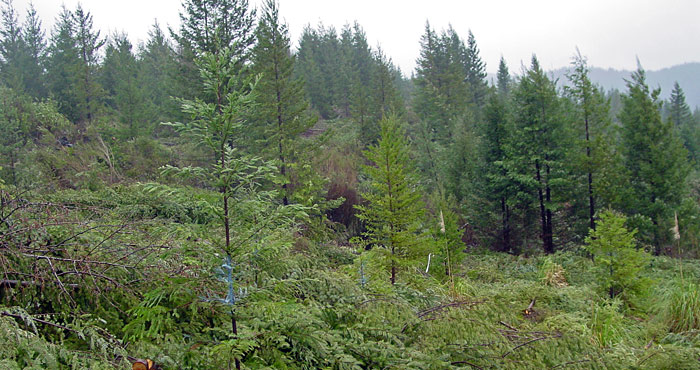 For more than half a century, the Mill Creek region in Northern California produced lumber. After clear-cutting, too many seeds were planted, producing a forest in which too many young trees competed for light, water and other resources. Now, thanks to Save the Redwoods League, Mill Creek is protected as part of Del Norte Coast Redwoods State Park and is becoming a laboratory for redwood forest restoration.
In one 2004 Mill Creek experiment, a team from the University of California, Berkeley, set up three treatments aimed at learning how to bring old-forest features (such as giant redwoods and diverse plants and animals) to young forests as quickly as possible. In one experiment, researchers carefully removed enough trees to reach a goal of about 300 trees per acre. In another, they only went halfway toward the goal, leaving about 600 trees per acre. In the third treatment, the control, they did not thin trees at all.
Four years later, the trees in all three treatments had grown, but those in the heavily thinned treatment outshone the rest. The volumes of the residual trees in that plot had increased by 124 percent, versus 107 percent in the more moderately thinned plot, and 70 percent in the control plot. "Our objective was to make the trees grow faster, so it worked well," said the team's leader, Silviculture Professor Kevin L. O'Hara.
But there was one big, furry problem. Black bears in this part of California occasionally rip the bark off young trees, killing or severely damaging them by gnawing on the sugary cambium layer. Researchers knew about this behavior. But they did not anticipate the extent of the damage. Bears attacked only 2 percent of the trees in the control, but more than 38 percent of the trees in thinned areas. O'Hara wasn't sure why the bears found the thinned areas so attractive: Perhaps access was easier, or they could smell the sugars in the cambium of the more rapidly growing trees.
In the end, the researchers concluded that the risk of bears needs to be assessed before a thinning system is chosen. In areas where tree-eating bears are likely, a heavy, "one-step thinning" could lead to a new kind of forest degradation. In other places, one-step thinning would be the fastest, most cost-effective route to old-growth characteristics.
"Had we done the same study in Mendocino County," O'Hara said, "I think it would have shown that thinning works well and we wouldn't have had the bear damage. The results would have been different because bear behavior is different."
---
Explore More Research Grants