Ecosystem Responses to Variable-Density Thinning for Forest Restoration in Mill Creek
on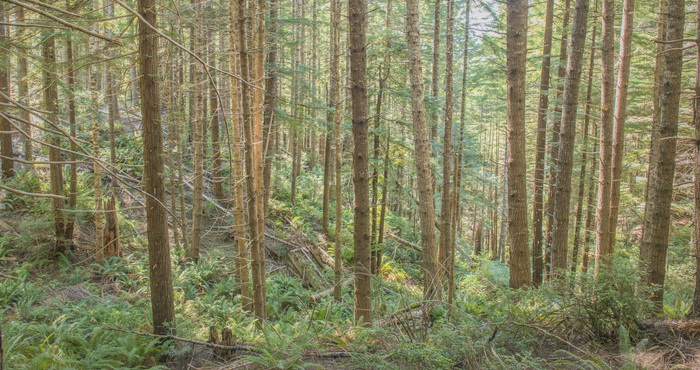 For more than a decade, the Mill Creek area of Del Norte Coast Redwoods State Park has been an important laboratory for researchers seeking to accelerate the transformation of overcrowded young forests to thriving diverse forests with massive redwoods and flourishing plants and wildlife. Mill Creek is the perfect place for experimentation because the original widely spaced old-growth forest was repeatedly logged from the 1920s until it became a park in 2000. In the regenerating and replanted young stands, too many new trees competed for resources. The result was a dense forest of small trees and poor plant and wildlife habitat.
Past experiments have shown that thinning the forest by removing some of the trees allows the remaining trees to grow larger faster. A 2008 Mill Creek study specifically found that heavily thinning the forest increased tree size the most, but this method also attracted the most attention from black bears that killed or damaged many of the trees when they ripped off the young bark to gnaw on the sugary cambium layer.
Humboldt State University and California State Parks research funded by Save the Redwoods League complements the 2008 results by studying new approaches to variable-density thinning across the entire property. The researchers created separate test sites where the trees were either left alone, heavily thinned, lightly thinned, or thinned in a pattern that left the most promising trees within 25-foot circles, a method which is called localized release. The large study included 8,366 trees in 60 test plots at 20 sites.
After four years, researchers remeasured the trees in each plot. They found that localized release is cost-efficient and created diverse redwood forests with healthy trees, offering land managers a promising new restoration choice. The localized release method did create much cut wood debris that could burn in a forest fire, but this risk can be managed by removing some of the cut wood, cutting it into pieces that decay quickly, or carefully burning it. Researchers also found that while some bear damage can create snags and other attributes that benefit wildlife, too much damage can slow forest recovery. By knowing this percentage, foresters can leave additional trees to compensate for this loss in areas of bear activity.
The results of this study can inform additional forest restoration in the Mill Creek area and in other previously logged forests to create old-growth forests of the future.
---
Explore More Research Grants