Annotated Bibliography of the Biology of Coast Redwood
on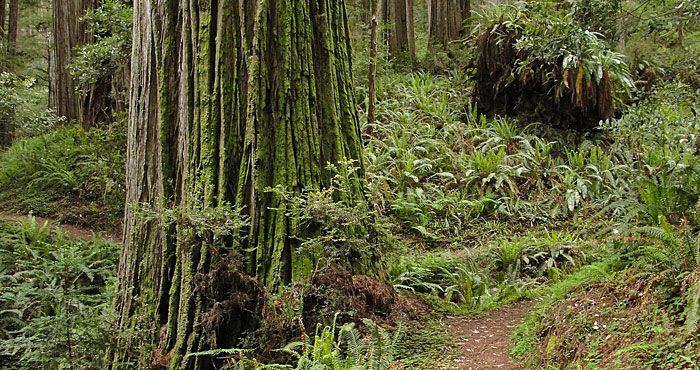 Coast redwoods have captivated scientists since their discovery, and thousands of articles, dissertations, and books have been written in an attempt to decipher various aspects of these magnificent trees. Finding all of this information was considerably more challenging until Deborah Rogers, a research geneticist and conservation biologist with the Genetic Resources Conservation Program at the University of California, Davis, stepped in to organize a bibliography of scientific materials written about coast redwoods in the past 50 years.
This is not the first time that academic information on redwoods has been compiled into a single source; an earlier bibliography was published by Emanuel Fritz in 1957. Rogers' efforts build on this much earlier work by cataloguing all the information published after its coverage end date of 1955.
Rogers divides her bibliography into seven categories for the ease of those searching for specific resources. "Paleohistory and taxonomy" addresses the history of redwoods; "Propagation and rejuvenation" covers breeding and proliferation of the species; "Genetics, physiology, and biochemistry" delves into genetic variation, chromosomal composition, growth, and development; "Ecology" contains information on the relationship between coast redwoods and their environment; "Natural disturbances and abiotic influences" discusses fires, floods, climate, and soils; "Managed regeneration and restoration" investigates management and ways to encourage regeneration in logged stands; and the final "General" section covers overviews, proposals for park establishments, and recommendations of conservation strategies.
The intent of this redwoods bibliography is to increase awareness about the coast redwood and to provide access to appropriate scientific literature. While Rogers specifically focuses on research pertaining to the coast redwood, the project opens the door to future bibliographic projects to catalogue the emerging body of research on the giant sequoia of the Sierra Nevada and the Chinese metasequoia, dawn redwood, as well. The appreciation of coast redwoods, the preparation of well-reasoned plans for its conservation, and the pursuit of a better understanding of the species through research, are all enhanced and supported when currently available information about the species is well organized and readily accessible.
Deborah L. Rogers' work was completed in 1997 and now provides researchers with a methodical way to find coast redwood resources.
---
Explore More Research Grants