Structure and Composition of Old-Growth and Unmanaged Second-Growth Riparian Forests at Redwood National Park, USA
on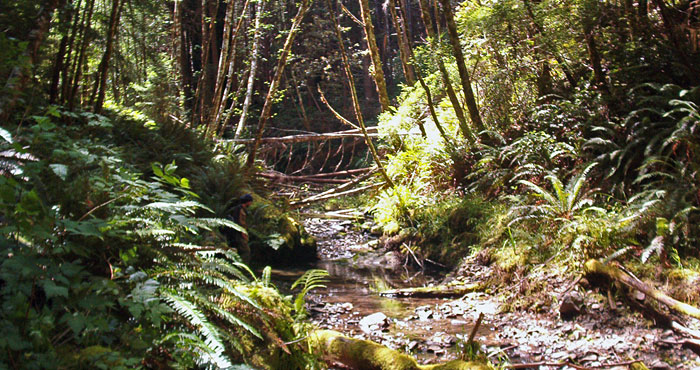 Upland forests in Redwood National Park have been studied extensively. But until a few years ago, less was known about streamside, or "riparian," forests, which benefit the park's salmon habitat by providing shade, erosion control and woody debris in the streams. So Humboldt State University graduate student Emily King Teraoka decided to compare two of the park's riparian forests: one along Lost Man Creek, which had been clearcut between 1954 and 1962; and one along Little Lost Man Creek, which was mostly untouched.
Redwoods dominated in the unlogged forest. They were the tallest, thickest and most common tree in a mix that included Douglas-fir, tan oak, western hemlock, and a wide variety of shrubs and herbs. In the logged forest, however, alders vied for dominance with Douglas-fir and redwoods. The redwoods were stunted compared with their relatives in the untouched "old-growth" forest.
Closer to the ground, the two forests were surprisingly similar; 54 percent of the understory species in the two forests were exactly the same. But each forest had a few unique species: in the old-growth forest, saltbush, fairy bells, rattlesnake plaintain (an orchid), and Pacific rhododendron; in the second-growth forest, currant, salmonberry, Pacific blackberry, woodland buttercup, wood fern, maidenhair fern and horsetail.
After painting a detailed portrait of the species and sizes of plants in each forest, Teraoka used scientific modeling to predict what might happen to the logged site over the next 50 years. Would it begin to resemble the old-growth forest 1) if left alone, 2) if all the alders were removed, or 3) if some Douglas-fir were removed?
The only scenario in which redwoods began to dominate involved thinning the Douglas-fir — removing some to improve the growth rate of the redwoods. Unlike some of the upland second-growth forests in the park, "These second-growth riparian forests are doing pretty well," Teraoka said. "But if you want them to be comparable to old-growth redwood forests, management would be required."
Research such as Teraoka's informs the League's management of logged property so that these old forests of the future will harbor clear, fish-filled streams and diverse plants and animals — the hallmarks of an ancient redwood forest.
---
Explore More Research Grants