Effects of land use, ownership, and matrix structure on sustainability of redwood reserves
on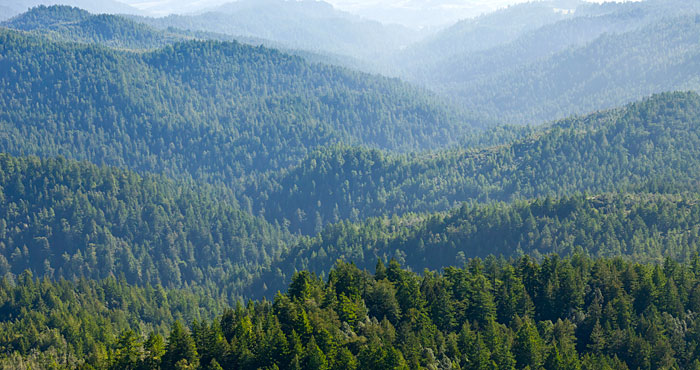 Dr. Sarah Marvin, professor of Geography at the University of Oregon, has set out to understand how the shape of the land and its use by owners reflect the probability of a privately owned coast redwood forest being protected. The two questions she has asked are: "Are privately owned forests more likely to be protected if they are on bigger parcels?" and "Do traditional, rural land uses as opposed to traditional, residential land uses promote forest preservation?" Answers to these questions might help predict the likelihood of future, private redwood forest protection and—of logged forests—regeneration.
Dr. Marvin approached the answers to these questions by digging up land use records in Northern California from 1949 to 1998 from the Assessors Office. She matched land use on specific parcels in a given year with aerial photographs depicting forest cover for the same year and parcels and noted trends. Her study sites included private land within a 5km radius of four protected, primarily old-growth redwood groves in Mendocino County.
Although she found no higher percentage of forest cover on bigger parcels than smaller parcels, she made several other interesting findings. Rural-residential land owners are more likely to buy cut-over land; and logged forests in the hands of rural-residential owners have the highest probability of regenerating. She found that despite a rapid rate of subdivisions on rural-residential land in the last half of the twentieth century, causing a greater number of smaller parcels, the overall canopy cover relative to the forest floor of second-growth forests improved.
Forests are least likely to regenerate, on the other hand, on rangelands and lands used for agriculture.
Dr. Marvin's report is the first part of a three-part pilot study to determine the best methods for an expanded study of land use effects on forested land across California. In part II she plans to describe the effect habitat fragmentation by roads and the activities of individual land owners have on a forest's structure. In part III she will combine all of her results and analyze them collectively.
NULL
---
Explore More Research Grants