Rodents could indicate health of redwood forests amid climate change
on
How do you find some of the smallest, most reclusive and rarest mammals in the redwood forest? You don't. You hire highly-talented canines to do the work for you.
Voles are small rodents similar to mice but with shorter tails and legs and a stocky body. The white-footed vole is one of the rarest and least understood mammals in North America, and one of the only mammals endemic to the coastal coniferous forests of Northern California and Oregon. Little is known about white-footed voles beyond this general range and their preferred habitat (riparian red alder woodlands, often in old-growth forests).
They are thought to inhabit redwood groves, but their numbers, diet and life cycle remain largely a mystery, as does the role they play in forest ecosystems. Are they prey for spotted owls, another rare mature forest species? Most likely. Do they aid in recycling nutrients by burrowing through duff and top soil? Probably. But no one knows for sure.
Save the Redwoods League, however, is determined to find out.
Understanding the Forest
"We really can't understand the redwood forest as a whole until we understand how its individual components fit together," said Emily Burns, League Director of Science.
So the League funded an ambitious study to learn more about white-footed voles. Unfortunately, they're almost impossible to find in the luxuriant understory of the typical coastal redwood forest. In response, researchers have released the hounds.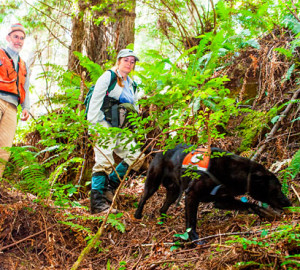 Or some exceedingly focused rescue pooches, in any event. Central to the vole quest are
detection dogs
from Working Dogs for Conservation, a Montana-based group that obtains abandoned dogs from shelters and turns them into the canine equivalent of Sherlock Holmes.
"A lot of dogs are abandoned because they're intensively inquisitive and kind of hyper," said Aimee Hurt, a co-founder of Working Dogs for Conservation. "That may not make them perfect pets for some homes, but those are exactly the qualities you need for detection dogs."
That was obvious on a 2014 session at Patrick's Point State Park, where Hurt's colleague, Debbie Woollett, put a Labrador mix named Wicket through her paces. As detection dogs go, Wicket is something of a superstar. She can recognize the scents of 26 species and has "alerted" on moon bears in China, elephants in Southeast Asia, invasive snails in Hawaii, and grizzly bears and black bears in North America. Wicket hones in on the scent of her targets or their scat. Her nose is so sensitive that she can differentiate between white-footed voles and the seven other vole species that inhabit California's coastal forests.
Despite a robust effort, Wicket didn't get a white-footed vole hit on her recent session. Had she detected voles, researchers from Humboldt State University and the California Department of Fish and Wildlife would've set out pit traps fabricated from coffee cans in the hopes of capturing some of the retiring critters for meticulous (and gentle) research before releasing them.
Indeed, Wicket and a fellow detection dog, a yellow Labrador named Lily, didn't alert on any voles in two weeks of sniffing at Patrick's Point and other Humboldt venues. But they're not giving up – nor are the researchers.
Effects of Climate Change
This study is important because it can lend insight into how sensitive species respond to climate change, said the project's principal investigator, Tim Bean, an assistant professor in the Wildlife Department at Humboldt State University.
California's Humboldt and Del Norte counties are practically the northern limit of redwood forests, and they are the southern limit of white-footed vole habitat, Bean said.
"As things get warmer, our baseline expectation is that everything will move north. Redwoods will shift further northward into Oregon, and the southern range limit for white-footed voles might move north, as well," he said. "If it gets warm enough, they might be extirpated from California. But as other League studies have shown, species' responses to climate change aren't that linear. If white-footed voles are tied really closely to red alders, they may be able to persist here as long as those trees do."
For now, Bean said he knows white-footed voles are not extinct. "We did find three voles on earlier searches, which was tremendously exciting, because those were the first confirmed captures in 18 years," he said. "But we don't know much more about them. We have a lot of work to do."
---
Explore More Research Grants