Determining Shade Tolerance in Arctostaphylos virgata and Other Forest-Associated Manzanitas
on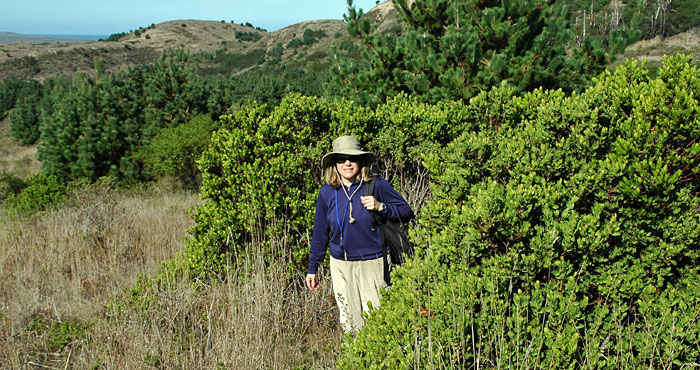 Though common in chaparral, manzanitas can also eke out a living on the edges of coast redwood forests. A recent study funded by Save the Redwoods League explored the differences between coastal versions of this sturdy red-barked shrub and their more sun-loving cousins.
The study focused on Point Reyes National Seashore, a foggy coastal area where Douglas-fir and redwood forests are encroaching on chaparral habitat. The manzanita species that have adapted to those conditions "have diverged from what you might think of as a typical chaparral plant," said manzanita expert V. Thomas Parker, a professor of biology at San Francisco State University.
In a 2011 study, Parker's student, Jennifer A. Chapman, measured the effects of variations in light on six manzanita species: three that could handle shade and three that could not. They found that the species that lived on the forest edge were shade-tolerant and shared characteristics that distinguished them from the sun-loving species, including half the photosynthetic capacity, lower respiration rates and a different mix of chlorophylls designed to absorb the particular wavelengths of light prevalent on forest edges.
Although manzanitas thrive in sunny inland areas, there's greater manzanita diversity along the coast. "The edges of redwood forests provide a habitat for evolution," Parker said. "Manzanitas have moved in and adapted to those circumstances. It's a very dynamic place."
Studies such as this one show it's important to protect redwood forests because they create habitat for diverse species like manzanitas.
---
Explore More Research Grants