Evergreen and Deciduous Ferns of the Coast Redwood Forest
on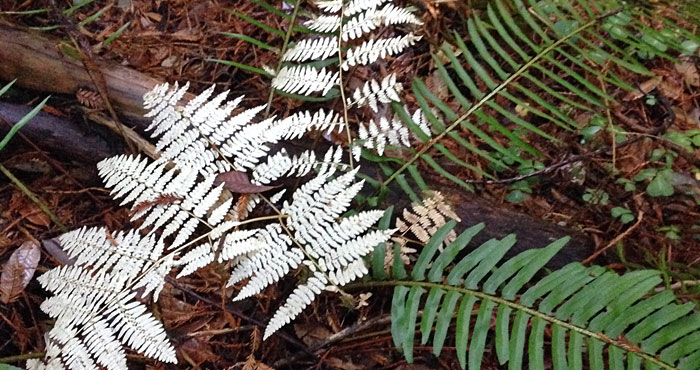 Emily Burns, Save the Redwoods League Director of Science, has an affinity for ferns. It took root when she was a postdoctoral researcher at the University of California, Santa Cruz, before she worked for the League.
"I could look around in a circle in the redwood forest and see five or six fern species," she recalled. "But they were all responding to the environment in unique ways."
Burns noticed that half the ferns in coast redwood forests were evergreen and half were deciduous. The evergreen species (including wood fern, giant chain fern and western sword fern) sprouted new leaves every spring and kept them for more than two years. They shed only the oldest ones at the end of the dry season. The deciduous species (including lady fern, five-finger fern, and bracken) dropped their leaves each fall. Some sucked nutrients out of their leaves just before they fell, giving them a snowy, white-Christmas look.
In 2010, funded by Save the Redwoods League and the National Science Foundation, Professor Jarmila Pittermann and Burns began a study comparing the leaves of evergreen and deciduous ferns. Interested in their response to drought, they chose midsummer, just before the deciduous ferns would shed their leaves, in the drier southern part of coast redwoods' range (in the Santa Cruz Mountains and Big Sur). They expected that evergreen leaves, which are thicker, would show fewer signs of water stress.
Lab experiments confirmed that the evergreen ferns leaves are sturdier—and less likely to suffer lethal breaks in the water column inside their "piping." But tests in the field showed that, even in midsummer, breakages weren't occurring in either type of fern. Both had the drought tolerance they needed to withstand current conditions.
As the climate changes, however, the advantage might switch to the deciduous ferns. "Their leaves are less drought tolerant," Burns said. "But they can shed them and wait for the dry season to finish. If we have more extreme droughts, that kind of avoidance strategy could be really successful."
Related research: Fog and Redwood Forest Plants
---
Explore More Research Grants