New Azana Species from Western North America
on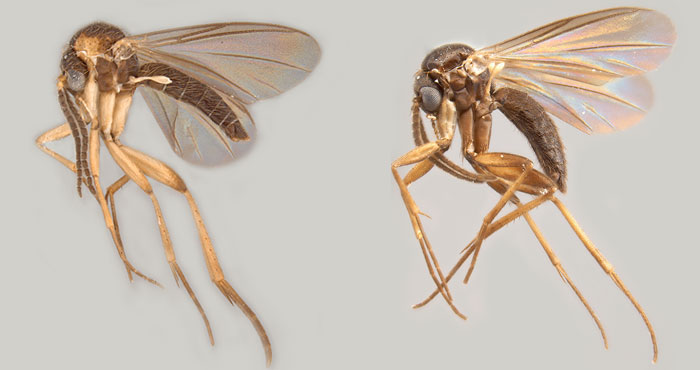 Discovering and classifying new species of life on Earth may seem like the musty quest of scientists who lived centuries ago. Yet the race is still on, even in well-known places like Calaveras Big Trees State Park in the foothills of California's Sierra Nevada.
Funded by a grant from Save the Redwoods League, entomologist Peter H. Kerr recently found two new species of fungus gnats near the base of some of the park's giant sequoias. They were the first members of the genus Azana to be recorded in western North America. He named one species, Azana malinamoena, after his wife, Malin, and another, Azana frizzelli, after arborist and fellow researcher, Randall Frizzell.
The two species are closely related to each other. But they are less closely related to the only other Azana species known in North America, which lives on the East Coast, than they are to a species in southwestern Europe. "That paints a complicated picture of the colonization into North America," Kerr said.
About as small as the tip of a pencil, fungus gnats play a big role in the forest. Populations of different species peak in different seasons, Kerr said, providing a year-round feast for bats, birds, spiders, salamanders and other animals. They don't bite or otherwise bother humans.
Important as they are in the forest food chain, fungus gnats have not attracted much scientific attention in the past. "It's pretty easy to find new species," Kerr said. "What's hard is placing a new species in the right context, classifying it and understanding its natural history and relationship to other species."
If you've ever examined a worm-infested mushroom, you may be familiar with fungus gnat larvae. While they may not look appetizing in a mushroom, the intricacy of adults' wings, antennae and other structures are "exquisite" under a microscope, Kerr said.
Once you start noticing such details, the forest comes alive. "You see things you aren't expecting to see," Kerr said. "The unanticipated creativity that nature displays is beautiful and heartwarming."
---
Explore More Research Grants