Tanoak Decline in Redwood Forests: An Analysis of the Structural and Compositional Effects of Sudden Oak Death
on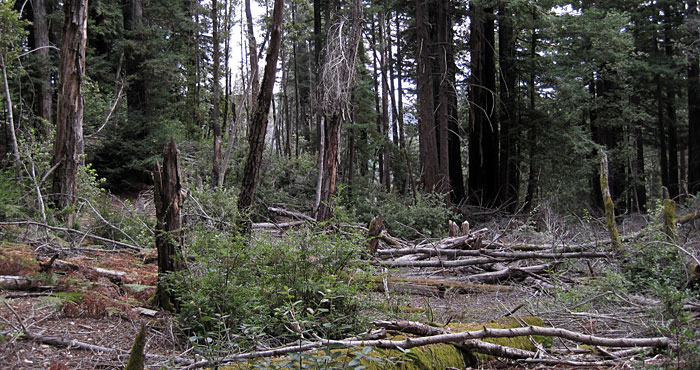 Tanoak (Notholithocarpus densiflorus) grows in coastal forests in Oregon and California. Compared with the majestic redwood, it's scruffy and small. But this humble hardwood plays an important ecological role in the redwood forest ecosystem. Its medium-height trees add a second canopy to the complex architecture of an old-growth redwood forest, creating more niches for diverse species. And its nutritious acorns feed bear, deer, rodents and birds.
For now, tanoak is still abundant. But where redwood forests show signs of the emerging disease called "sudden oak death," the species has been decimated. Kevin L. O'Hara, University of California, Berkeley, silviculture professor and PhD candidate Ben Ramage are studying what happens to redwood ecosystems in places where tanoaks have disappeared.
In a 2008 study funded by Save the Redwoods League, O'Hara and Ramage documented numerous changes caused by tanoak's demise—among them more sunlight, deadwood and herbaceous species on the forest floor. The study's most important finding, however, had to do with the forests' inability to regenerate trees of any kind. "If a tanoak clump dies and it leaves an opening in the forest, we're not seeing any new trees come into that opening," O'Hara said.
But could there be a silver lining? Could fewer tanoaks make space for the existing redwoods to grow larger? Possibly, O'Hara said. But given the tanoak's importance to wildlife, he said, "I don't think anybody's really thinking that way. It's kind of a tragedy."
In proposed follow-up work, O'Hara and Ramage want to examine the ecological roles of other tree species that grow in or near the redwood forest. A tree like, say, madrone provides food for wildlife but is not susceptible to sudden oak death. Could such a tree take the tanoak's place if sudden oak death wipes out tanoaks? By planting several promising species in experimental plots, O'Hara and Ramage hope to find out.
---
Explore More Research Grants