Clonal Diversity, Patterns, and Structure in Old Coast Redwood Forests
on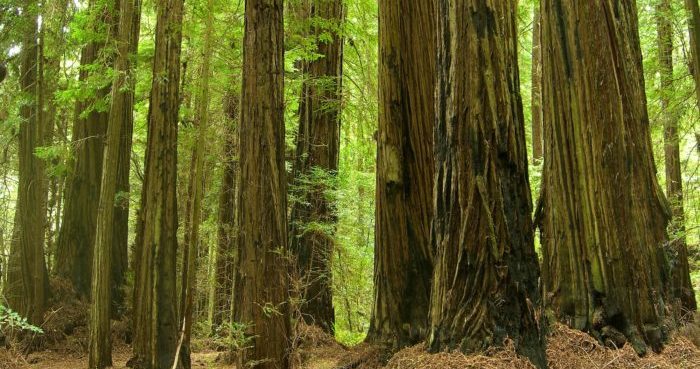 If you've visited a coast redwood forest, you've probably seen these trees growing around the stump of a logged giant. These "fairy rings," as they're known informally, show how the coast redwood reproduces asexually by sending new sprouts up from the trunk base of a parent redwood. The mystery was whether these sprouts are genetically identical copies of the parent redwood.
Because 95 percent of the current coast redwood range is younger forests, understanding the genetics of the coast redwood is critical for conservation and restoration.
Building on previous work, Save the Redwoods League sponsored two studies running several years, led by Lakshmi Narayan and Kevin O'Hara of the University of California, Berkeley, to better understand genetics within and between redwood forest stands.
The researchers studied three pairs of old-growth stands from Santa Cruz to Humboldt counties. They found that redwoods growing close together in a fairy ring or even directly connected at their trunk bases were actually not clones approximately 10 percent of the time. These individuals were the result of sexual reproduction, they were sprouts up from neighboring trees, or mutations led these clones to be different from the others in the ring.
Understanding clonal diversity and spatial arrangement of clones in old redwood forests has important conservation implications. This information can be used by land managers who wish to restore and manage second-growth redwood forests to resemble old forest conditions, in part to provide habitat for imperiled species that depend on ancient forests.
Some commercial timber operations are planting laboratory-propagated clones as the main source of regeneration after harvest. This study shows that mono-clonal patches are rare in old-growth forests, and documents high diversity throughout the range of coast redwood.
For now, Narayan advises, "To re-create stand structures approximating old forest reference conditions, land managers should incorporate a mix of seedling and sprout-origin regeneration planted in both single and multi-tree clusters."
---
Explore More Research Grants