A Race Against Time: Establishing Baseline Data on Redwood Ecosystem Food Webs Before New Zealand Mud Snails Invade
on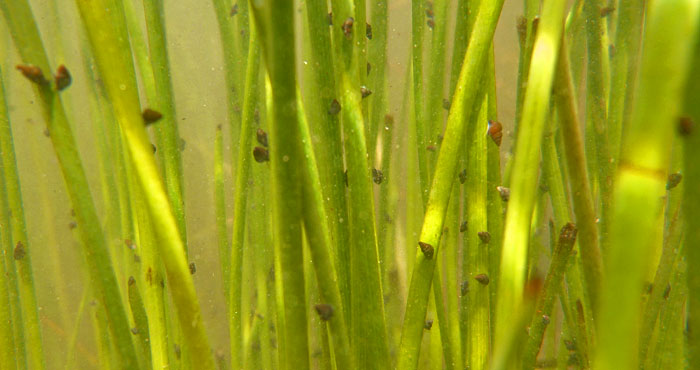 Humboldt State University fisheries biologist Darren Ward was concerned, but not surprised, when New Zealand mud snails showed up in Redwood National Park in 2009. These tiny invaders had already infested the Great Lakes and various waterways on the West Coast. Now they were in the Redwood Creek estuary. With help from a grant from Save the Redwoods League, Ward and a colleague at the US Geological Survey, Adam Sepulveda, began searching to see if they were moving upstream.
New Zealand mud snails are notoriously prolific. If even one female sneaks into a watershed on a pair of wading boots, trouble can ensue. Every two or three months, that female can asexually produce up to 80 daughters, each smaller than a grain of sand. In some places, the species coats the bottoms of streams and lakes with up to 100,000 snails per square meter. Like native snails, they're occasionally eaten by fish. But unlike natives, they can close trap doors in their shells and emerge from other end of the fish unscathed. They're a dead end in the food web.
In a worst-case scenario, stream bottoms coated with New Zealand mud snails would result in fewer aquatic insects. Fewer insects would mean less food for animals, including spiders, birds and salmon. Fewer spawning salmon would mean slim pickings for bears and otters — and less nitrogen in the park's soils, which are fertilized by the bodies of the dead salmon. It's not inconceivable to think that the tiny snails could affect the redwoods themselves.
Following studies in 2011 and 2012, Ward and Sepulveda brought home good news. The snails had not moved upstream — at least not yet. The upstream water, which has less calcium and salt, seems to be keeping the snails at bay. Snails died in filtered water in the lab. When ocean salt was added, they survived but did not reproduce. Only when calcium was added did they survive and reproduce. "They seem to need calcium to have babies," Ward said.
Along the Columbia River, these snails have evolved to cope with less-than-ideal water chemistry, Ward said. "But in the immediate term, we appear to have dodged the bullet."
---
Explore More Research Grants