Redwood Mortality and Sprouting Response to Summer 2008 Fires
on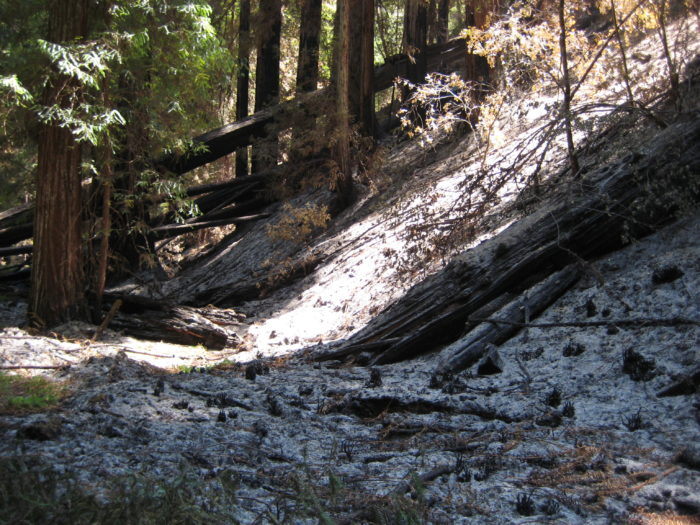 For most of the 20th century, land managers adopted aggressive strategies to prevent and squelch forest fires, and Smokey the Bear was a household name. But two centuries ago, before European settlers landed in California, lower-severity ground fires regularly burned in redwood forests; these fires occurred occasionally as a result of lightning, and often as a result of Native American burning practices.
In fact, researchers believe that fires burned through most redwood forests every six to twenty-five years; in other words, it was a normal occurrence. What is not normal, is the lack of wildfires in the redwood forest.
On June 20, 2008, a single lightning storm ignited fires across Central and Northern California. Firefighters, preoccupied with fighting flames in drier areas, allowed many coast redwood forests to burn. This presented an uncommon research opportunity, particularly since these fires burned in old-growth and younger, managed forests.
Researchers from the University of California, Berkeley, seized this opportunity to study the redwood forests after wildfire. The team compared burned forests with unburned forests in old-growth and recovering, logged forests. They took measurements in 2009, one year after the fires, on coast redwoods as well as tanoaks, a broadleaf evergreen tree that is ubiquitous across the redwood range.
Both redwoods and tanoaks can reproduce by sprouting new stems from existing roots. Eventually, these sprouts can grow into mature trees. Walking through the forest, you might notice several redwoods clustered together, creating a perfect circle. These "fairy rings" are often clones, arising from a single, original tree.
The researchers wanted to see how redwoods and tanoaks respond to fire. It's possible that fire helps one species gain an advantage over the other. In fact, fire might even facilitate the two species' coexistence, if it helps one species that is otherwise disadvantaged. To investigate this possibility, the team counted the number of redwood and tanoak deaths at four field sites. They also measured the number of new sprouts.
They considered any tree that was over 10 centimeters in diameter at breast height (or DBH, a standard measurement in forest ecology that is the diameter of a trunk at 1.4 meters above the ground.) The team noted whether each tree was dead or alive, then determined whether it had likely died in the fires by looking for evidence that some of the tree had burned or was charred. Additionally, the researchers measured the height and severity of the charring on each tree.
The researchers took measurements at four field sites. Two sites, Jackson Demonstration State Forest and Eureka Canyon Forest, contained second-growth redwoods between 60 and 80 years old. The other sites, Montgomery Woods State Natural Reserve and Big Sur (Pfeiffer Big Sur State Park, Julia Pfeiffer Burns State Park, Big Creek Reserve, and Los Padres National Forest) contained old-growth redwoods.
The results showed that, compared to tanoak, more redwood trees survived after the fires. In more severe fires, this pattern was even more pronounced, suggesting that fires of any severity increase the relative abundance of redwoods in the forest. Recovering second-growth forests that had been logged in the past generally had higher survival probabilities for tanoak than tanoak observed in old-growth forests, but redwood survival did not differ between the two forests. Tanoak did produce more basal sprouts than redwoods after wildfire, but this response was still lower than tanoaks in unburned areas. Furthermore, a stronger sprouting response is not expected to result in much of a shift in redwood dominance given the much higher survival rates for redwood trees. For land managers considering a prescribed burn or debating whether forest fires should be suppressed, it should be helpful to know these results, the team writes.
---
Explore More Research Grants