Impacts of Social Trails around Old-Growth Redwood Trees in Redwood National and State Parks
on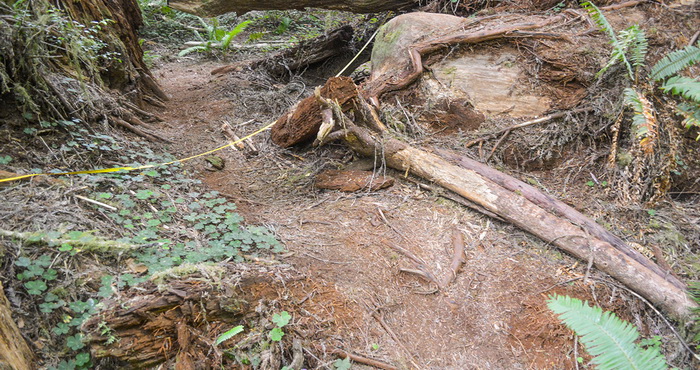 Keeping ancient forests safe from harm is an important component of conservation. Trails that allow people to visit these magical trees provide an important recreational opportunity that inspires people to appreciate and support forests and their ongoing protection.
However, people often don't realize that our forests can be loved to death. When a visitor steps off an official trail, they may unknowingly harm the forest's complex ecosystems, damaging tree roots and affecting interactions between old-growth trees, understory plants, regenerating trees, mycorrhizal (fungal and root) networks, soil microbes and the habitat all these provide for animals.
And now, because of internet and mobile technology, the locations of more and more of the tallest redwoods are becoming public knowledge, drawing more people to these giants. This often leads to people blazing their own trails either because the officially designated trail does not provide close access, or because there is no official trail to a specific tree or grove. These unofficial trails are called social trails. So, just how great is the impact of these unofficial trails?
To get answers, Save the Redwoods League funded research by Claudia Voigt, a graduate student studying environmental science and natural resources at Humboldt State University.
She evaluated the impacts of social trails on old-growth redwood groves in Redwood National and State Parks (RNSP) in Northern California. The goal of this 2015 study was to provide an inventory of social trails and develop a process that land managers can repeat to monitor the impacts of trampling on old-growth redwoods.
Detailed information was gathered about social trail networks in three old-growth redwood groves, which ranged in use from minimal to heavy: Tall Trees Grove, Stout Grove and Grove of Titans. The trees and the size of the disturbed areas around them were inventoried, along with measurements of surrounding vegetation and soil. In easily accessible groves, there was more damage on social trails near official trails. In less visited sites, damage increased around the largest trees and trees with large burned out areas at the base (goose pens), large burls, unique bark patterns, and dramatic branches (reiterations).
Voigt's study also gathered information from previous research that evaluated how people respond to educational tactics to keep them on official trails. These tactics ranged from a presentation by a ranger to signs using symbols or text such as "please stay on trail." Voigt's paper indicates that using a combination of practices is most effective because different types of visitors have different motivations for staying on marked trails.
Data from the study can also be used to determine when and where it makes sense to turn a social into an official trail to make the park experience more engaging for visitors while concentrating them to reduce trampling. Educational signage, restoration of social trails using native plants, and marking trail boundaries with log and branch barriers can improve conditions in the redwood groves significantly.
RNSP managers can use this information to study the impacts of recreational visitation over time. According to the study, RNSP managers have placed trail signs to discourage people from walking off trail. In addition, California State Parks is planning to build an elevated boardwalk and a viewing platform that would help to protect one of the studied groves from further damage while allowing visitors to experience the awe-inspiring trees. Redwood Parks Conservancy is leading a fundraising effort (external link) to get this project off the ground.
Voigt's study also provides a process other park managers can follow to study the impacts of trails, and can help define a standard for how much impact can be tolerated by the habitat.
Armed with this information, managers can help old-growth redwood forests thrive while creating the best trail networks so people can enjoy them for generations to come.
---
Explore More Research Grants