How Will Climate Change Impact the Composition of Microbial Communities in Coastal Redwood Forest Soils?
on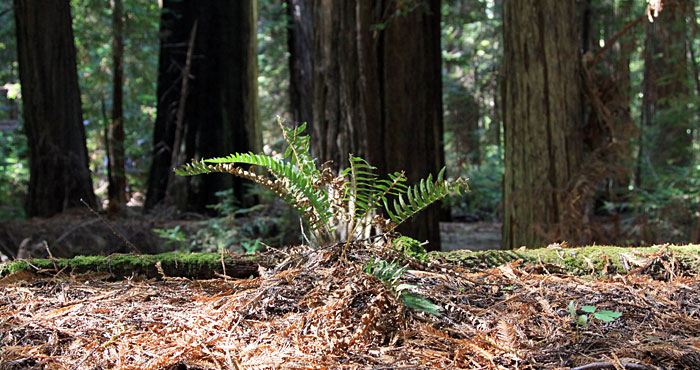 When you look up from the bases of a giant coast redwoods, they seem indestructible. After all, some coast redwoods living today were alive during the time of the Roman Empire.
But coast redwoods need healthy soil and its tiny organisms to survive. So how will climate change affect the forests' fungi and bacteria? A research team led by Professor Mary Firestone at the University of California, Berkeley, recently found a way to mimic what the future may hold.
Aided by a grant from Save the Redwoods League made possible with support from you, our members, the team took samples of soil from three locations in the north, south and central regions of coast redwoods' range: from Prairie Creek Redwoods State Park, Big Basin Redwoods State Park and the Grove of Old Trees in Sonoma County. At each of these sites, soil samples from the other locations were installed and analyzed twice, after one and three years.
In some ways the sites are similar: They are all flat and have old-growth redwoods towering over an understory of sword fern, tan oak and sorrel. But the sites' soils include different combinations of microorganisms nurtured in different climates. At Prairie Creek, there's more precipitation and lower temperatures; at Big Basin, less precipitation and higher temperatures.
In the beginning, Firestone wasn't sure whether transplanted soils would remain the same, become more like the native soils, or take off in some unpredictable direction. After three years, "the organisms became more like the community indigenous to the location we moved them to," she said. "But the speed of the response was slow." Of more than 2,300 bacteria species detected, 3.2 percent changed their abundance within one year of the transplant, and 12.4 percent after three years.
The researchers noted other changes as well. "Transplanted nitrifiers (soil bacteria) were knocked back at one year," Firestone said, "but started to rebound in three years." Fungi, which form vital symbiotic associations with redwoods, tended to make the transition more easily.
On balance, the results are good news for redwood soils in a changing climate. "The response to the change was slower than many people would have expected," Firestone said. "But we didn't see any really negative consequences on the communities or their functioning."
You can help us learn more lessons like these to understand how to best protect redwoods and what the forest's long-term survival means to the health of people and our planet. Please donate today.
---
Explore More Research Grants