Performance and Morphology of Sequoiadendron Genotypes Outside Their Range
on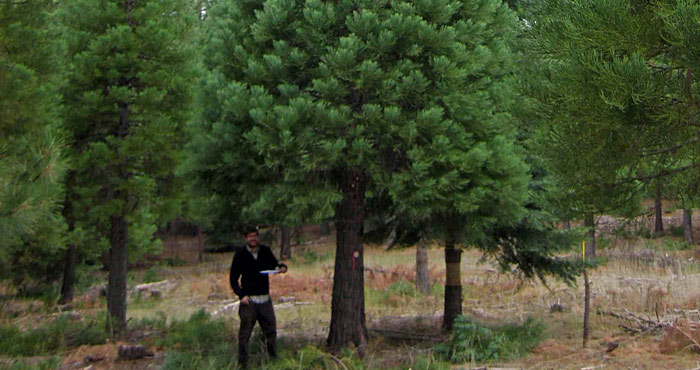 More than 30 years ago, giant sequoia seeds were collected in 23 groves representing the species' range from north to south in the Sierra Nevada. They were propagated and planted on US Forest Service land 20 miles east of Auburn, California, that was hotter, drier, lower in elevation and farther north than any of their original homes. This experiment, the legacy of William J. Libby, UC Berkeley emeritus professor and Save the Redwoods League board member, has been studied and carefully maintained ever since.
From the beginning, the experiment was designed to see how sequoia offspring from different places vary genetically. In 2009, a Humboldt State University team led by forestry professor John-Pascal Berrill took the latest round of tree measurements and assessed distinctive features such as asymmetry.
Among the team's most important findings: Trees that came from the Sierra's larger groves were growing faster than trees from its smaller groves. They were more "genetically fit," Berrill said, possibly because they were less inbred. Researchers also found that seedlings from southern latitudes were doing better than those from the north, possibly because they were better adapted to hot, dry conditions.
The results suggest that small groves may not be self-sustaining.
"Some of them were born into the climate of perhaps 1,000 years ago," Berrill said. "Their offspring may not be well adapted to the new climate."
A possible and likely controversial solution, Berrill said, would be to increase the small groves' genetic diversity by introducing pollen from a larger, more genetically fit grove.
"Or we could let nature decide whether the small groves persist," he said. "But I feel it's our responsibility to at least collect seed."
Most notably, in an age of rapid climate change, "the experiment is a lens into the future," Berrill said. "As things get hotter and drier, who is going to do better? Who is going to do worse? Which do we need to protect?"
---
Explore More Research Grants