Using Modern Technology to Resolve an Ancient Mystery: Unraveling the Hexaploid Origin of the Coast Redwood
on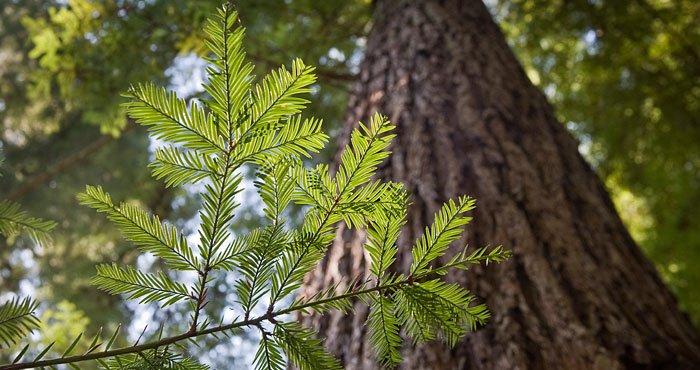 Coast redwoods are renowned for their majestic dimensions, but they are remarkable on the microscopic level as well, being the only hexaploid conifer. Each tree, in other words, has six copies of each of its chromosomes; most other cypress-related species are diploid, meaning they have two sets of each chromosome. These extra copies of chromosomes are significant because they make for a greater possible range of physical characteristics, and may allow redwoods to adapt to changes in their environment more rapidly. A recent League-supported study by David Baum, a University of Wisconsin researcher, explores the genesis of this rare "polyploidization." The genetic tools developed in this project may prove beneficial for conservation of the redwood forest.
"Interestingly, the data so far do not support previous hypotheses of hybridization with distant relatives of Sequoia, such as suggested genome donors Taxodium and Cryptomeria (genera of conifers in the cypress family)," Baum said. "Instead, our data suggest that polyploidization happened, at its broadest, within the California redwoods."
Baum's work shows that there's tremendous genetic diversity in coast redwoods despite their rather narrow range, said Richard Campbell, Conservation Science Manager for Save the Redwoods League. "That's likely to affect our efforts as we move to implement preservation and restoration goals," Campbell said.
Findings like Baum's regarding different genetic profiles of specific coast redwood strains mean some trees could demonstrate greater resilience in certain types of climatic conditions than others. This has tremendous ramifications for redwood conservation in an era of accelerating climate change, Campbell emphasized.
"It could ultimately help us determine which trees are suitable for planting in particular areas," Campbell said. "If our models show an area is likely to become warmer and drier, we could select for redwoods that are genetically appropriate."
The parameters of the coast redwood genome could also help scientists prioritize regions for ambitious restoration efforts.
"Generally speaking, redwoods need a cool climate and ample water," Campbell said. "Some areas that currently support redwoods may ultimately become so hot and dry due to climate change that even strains that are relatively heat and drought tolerant couldn't survive. No matter what we'd like to do, such areas are destined to become fir or pine forests, or perhaps blue oak woodlands, or black oak and grassland savanna. The more we know about the redwood genome, the better we can assure the survival of the redwood forest."
---
Explore More Research Grants