The League launches
Centennial Celebration Week
on the north coast with the Stand for the Redwoods Festival in Humboldt County at the Orick Mill site in
Orick, California on Sunday, October 7
from 12:00 p.m. to 5:00 p.m. and ends with the capstone event, the Stand for the Redwoods Festival in
San Francisco on Sunday, October 14
from 12:30 p.m. to 4:30 p.m. at Yerba Buena Gardens in San Francisco, California.
---
STAND FOR THE REDWOODS FESTIVAL
IN SAN FRANCISCO
Sunday, Oct. 14 | 12:30 p.m. – 4:30 p.m. | Yerba Buena Gardens, SF
LINE UP
NAHKO
It sounds like the logline for a classic sixties film…
An Oregon native leaves home at 18, follows love from Alaska to Louisiana only to learn about heartbreak the hard way, meets his birth mother for the first time, eventually settles in Hawaii, and launches a successful band. It isn't the fulfillment of some loose end in Easy Rider or Five Easy Pieces though. It's the origin story of Nahko captured on his 2017 solo offering, My Name Is Bear. The album predates his rise to mythos among diehard fans in Nahko and Medicine for the People, and it's an important piece of the puzzle that is Nahko.
My Name Is Bear might incite some of the same questions. Artfully merging rustic acoustic guitars, upbeat energy, tribal flavors, fiery percussion, and ponderous lyrics, these recordings reflect the soul and spirit fans have come to know and love from his work in Medicine for the People, while venturing into decidedly more "rocking" and "personal" territory, as he puts it.
"My music did not define me at 18-21 the way it does now. It was my comfort zone. I turned to it to get me through all of the transitions. I had no definition of life at the time. Music is my language, that is certain. It is my way to get in, out, over, and under. It's my bridge. I can connect with people and many other things with it."
RON ARTIS II & THE TRUTH featuring the Saeeda Wright Gospel Singers
To say that Ron Artis II plays music from his heart and soul would be a bit of understatement. With his family upbringing and incredible early success, you may even say it has been pre-ordained. So how does one of the great musical talents of his generation come seemingly out of nowhere? Well, that part of the mystery is easy to solve. He's been paradise's best kept secret for years and now he's finally making big waves on the mainland and beyond.
Ron moved to Oahu, Hawaii with his family when he was only four years old. And what a prodigious family it is! He is one of eleven total children, all of whom grew up immersed in a creative and religious household led by his musically gifted parents. Ron explains "My mother is a beautiful singer and my biggest influence on my approach to singing. My father was always the performer, the writer and arranger."
While developing his multi-instrumental prowess playing in the Artis Family Band, Ron quickly took to piano and guitar as his main modes of expression. His mastery of both—in addition to numerous other instruments—quickly made evident that he was special. As he got older and played more around Oahu, others quickly recognized his gifts as well. Mick Fleetwood (Fleetwood Mac), Jack Johnson, Jake Shimabukuro and many others recognized the incredible talent that was taking root on their isolated island paradise. Ron has gone on to play with all of them and more across Hawaii's most prestigious venues with his own band that he put together (featuring brother Stevon on drums) aptly called, "The Truth."
Those opportunities led to more exposure to artists from the mainland who, while they were touring the islands, all immediately recognized the unique talent they were witnessing. Booker T Jones, Eric Krasno (Soulive, Lettuce) and G Love all invited (and in some cases demanded) Ron to collaborate and encouraged him to share his music with the broader world. This support aligned perfectly with Ron's vision for his music: "To me, music is about giving. When I'm performing, I let go of everything. I look out into an audience and feel: 'What do they need right now?' We as artists have been given a gift and gifts are meant to be shared."
Which catches us back up to today. Ron has now embarked on 3 full US Tours, playing sell out shows from coast to coast with his long list of collaborators and more. His debut full length album "Soul Street" just dropped in early April, 2018 and has already garnered wide critical praise. The album crystallizes the full range of Ron's influences—deep Delta Blues and Gospel, plus Northern Soul and R&B, alongside in-depth and personal lyrics—into a tight collection of fresh yet familiar songs that are at once urgent and timeless.
SAEEDA WRIGHT
Whether singing on a grand stage, speaking to an eager crowd, or authoring stories through lyric, melody, and beyond, Saeeda "Mama Sae" Wright is sure to elevate your mind and your spirit to heights you didn't know you could reach. Her passion is electrifying, and her voice so magnetic you cannot help but find yourself enveloped in the stories Saeeda is telling.
You will be captivated by more than just what you hear coming from Saeeda when she takes the stage, you will feel loved, inspired, and encouraged all at the same time. These are the gifts Saeeda has been cultivating since she was child. Surrounded by praise and worship ministers, it was in her blood to find her voice and tend to its blossom throughout her life, including furthering her education as a Voice Major at Clark Atlanta University.
Currently Saeeda can be seen on stages backing Prince, is a member of his New Power Generation, and is featured with the Tim Snider Trio. Over the last Twenty years Saeeda has had the privilege of working with artists such as Lalah Hathaway, Mike Phillips, Patrick Lamb, Duffy Bishop, and The Pacific Northwests own Liv Warfield. Saeeda has also been blessed to grace the stage with or open for Gospel Music Power-houses Jessica Reedy, Cece Winans, Crystal Akin, JJ Harrison and Yvette Williams of the Kurt Carr Singers. Some of Saeeda's studio credits include Prince, Derrick McDuffey and Kingdom Sound, Liv Warfield, Patrick Lamb and Bruthaz Grimm. She is very well known and respected for her work as a soloist with the Oregon Symphony, and has been a regular participant in Portland's Annual Blues Festival, as well as many other festivals and events that take place in Oregon annually.
Along with performing, Saeeda is a dedicated vocal coach, helping other aspiring vocalists reach their full potential. Besides the gifting and incredible work ethic put forth from this powerful woman, her dedication to her family, her faith, and giving back to her community remain her biggest priority. She embodies humility, grace, and generosity, making her an asset to every environment.
JAZZ MAFIA
Jazz Mafia's Heaviest Feather (HF) formed in 2017, performing that very summer at high profile festivals including Oregon Eclipse/Symbiosis. The air tight eight-piece band brings together the Bay Area's brightest rising stars alongside its most seasoned professionals. HF regularly presents fully customized shows featuring original and new music, and a who's who of Bay Area vocalists, from all genres. HF also serves as the house band for the bi-monthly Sunday Skool series, a collaboration with esteemed circus-arts posse Vau De Vire Society.
The distinct sound of HF is rooted in its five brass instruments, mixing those organic sounds with heavy EDM, hip hop, rock and world music. Soulful vocals are often added on top, and it all comes together to create something fresh, eclectic, and genre-defying. Each member of HV is an established and innovative writer/arranger, and each voice fuels the eclectic diversity that shines through in a typical HF set. Keeping up with who's playing what instrument at any given time can be a dizzying experience, as many of the members bounce between two to four instruments in a set, as well as singing lead vocals.
Heaviest Feather recently premiered its "Tribute to the Ladies of Hip Hop" in January of 2018 in Jazz Mafia's monthly Live Mixtape series. The two-hour live show features five deadly female lyricists performing HV's arrangements of their original music, as well as non-stop medleys and mash-ups of dozens of classic hip hop jams from the female lexicon.
Festival host John Evans, KCBS
John Evans is one of the night-time anchors on All News 106.9 FM and AM 740 KCBS. He keeps listeners informed from 10 p.m. to midnight and 2 to 5 a.m. John's a 40-year Bay Area radio personality, having been an integral part of many legendary stations including Classical KDFC, Smooth Jazz KKSF, World Class Rock KFOG, K-101, and 610 KFRC.
GENERAL INFORMATION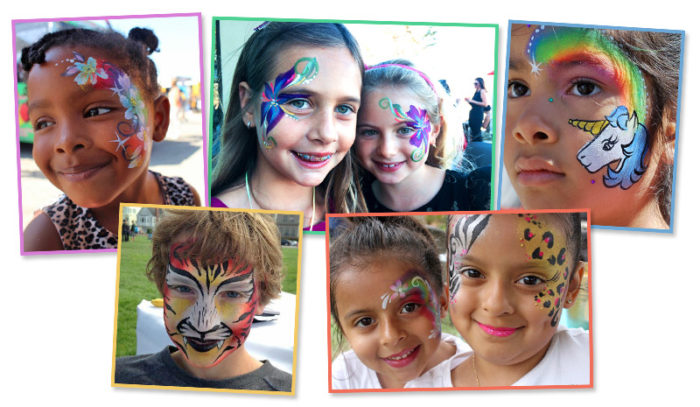 This FREE, family-friendly music festival offers amazing live music all afternoon in downtown San Francisco, face-painting for all ages (want to look like a flying squirrel?), and… wait for it… dancing redwood trees! Our Centennial partners will also have engaging activities at their booths for all ages. Our partner Sierra Nevada Brewery will be providing a beer garden. People from the San Francisco Bay Area and beyond will gather to celebrate 100 years of redwoods conservation and take a stand for their future, all the while dancing across beautiful Yerba Buena Gardens. This is a totally free event, so grab your family and friends and join us!
EVENT SCHEDULE*
*Times are approximate.
12:30 p.m. – Program begins
12:45 – 1:45 p.m. – Jazz Mafia
1:45 – 2:00 p.m. – Special remarks
2:00 – 3:00 p.m. – Ron Artis II & the Truth Featuring the Saeeda Wright Gospel Singers
3:00 – 3:30 p.m. – Special remarks, Lou Seal, Puppet Parade; Birthday Cake
3:30 – 4:30 p.m. – Nahko
4:35 p.m. – Closing remarks
PUPPETS & PARADE by Dancing Tree & Company
Children of the forest unite! Help us celebrate our birthday party by joining in A Creatures of the Redwoods Puppet parade! We will meet up at the Dancing Redwood Tree puppet near the face painting area then move out for a short parade through the crowd. You will get to choose from a hand held salmon puppet, California red legged frog mask, or butterfly wings! First come, first pick of the puppets, masks and wings. Supplies are limited but all children are welcome in the parade.
FOOD AND DRINKS
Beer will be available for purchase at a beer garden sponsored by the Sierra Nevada Brewery. Must be 21 yrs or older with a Valid ID to purchase alcohol. Food is available for purchase by vendors in the surrounding area. For more information about dining options, visit the Yerba Buena Gardens website.
DIRECTIONS & PARKING
The festival will be held at Yerba Buena Gardens, located at 750 Howard St, San Francisco, CA 94103.
See directions on Google map
Yerba Buena Gardens is a short walk from the BART | MUNI Powell + Montgomery Street stations. This is a Bartable event! The CalTrain Station at Fourth and Townsend is served directly by MUNI with stops on Third Street at Howard and at Mission. Yerba Buena Gardens is also convenient to Golden Gate Transit, SamTrans, AC Transit, Taxi, Uber + Lyft.
Parking garages and street parking are available nearby. For more information about getting to Yerba Buena Gardens, visit https://yerbabuenagardens.com/visitor-information/.
BRING YOUR:
Cash to purchase food and drinks
Sunscreen
Blankets
Lawn chair(s)
Water bottle(s)
Camera
LEAVE BEHIND:
Please leave behind any of the following: Weapons of any kind, fireworks/explosives, illegal substances, large coolers, glass containers, or alcohol. No illegal vending is permitted – no unauthorized/ unlicensed vendors are allowed.
No smoking will be allowed on Festival Grounds.
Visit the Yerba Buena Gardens website for more information about planning your visit and park rules.
PET/ANIMAL POLICY
No animals are allowed at Yerba Buena Gardens (with the exception of ADA-qualified service animals).
---
STAND FOR THE REDWOODS FESTIVAL
IN HUMBOLDT COUNTY
Sunday, Oct. 7 | 12:00 p.m. – 5:00 p.m. | Orick, CA
LINE UP
MONOPHONICS
Monophonics are just hitting their stride as one of the premier soul bands in the country. The Bay Area band delivers cinematic songs with timeless hooks anchored by Kelly Finnigan's soulful organ and powerhouse vocals. Their sound is inspired equally by classic soul, heavy funk, psychedelic rock, and classic American songwriting.
The band's main members live just North of San Francisco, CA in Marin county, a place revered among artists, surfers, hippies and musicians; three of them grew up here. The band members simultaneously revere and honor the Bay Area's colorblind and highly diverse musical tradition that dates back to Haight/Ashbury's psychedelic revolution and Sly Stone and the Family Stone's multiracial, funky grab-bag. Soulful vocals, funky drum-breaks, psychedelic guitar licks and fuzz bass intermingle effortlessly across the band's catalogue, most effortlessly on their newest EP: "Mirrors".
Baked-in to any Monophonics record there's a vibe, that elusive element that lesser bands can't fake, as Kelly Finnigan put it: "I think it's having people who are all on the same page, striving to capture that musical moment and being honest in their playing and being thoughtful and putting their ego to the side to serve the song." Monophonics is Austin Bohlman (Drums), Ian McDonald (Guitar/Background Vocals), Ryan Scott (Trumpet/Back-ground Vocals/Percussion) & Kelly Finnigan (Keys/Lead Vocals) along with Max Ramey (Bass).
MARTY O'REILLY & THE OLD SOUL ORCHESTRA
Just when you think American roots music should be relegated to the dusty confines of a purist's museum it will surprise you with a paradigm shift. Take Marty O'Reilly & the Old Soul Orchestra— passing through tradition, the quartet stumbled upon innovation, proving that old souls can be creatively fresh.
The Santa Cruz, California-based quartet's latest, Stereoscope, out February 9, 2018, marks an evolutionary leap in a journey of artistic identity, songwriting maturity, band friendship and fiery group synergy. Here, Marty O'Reilly & the Old Soul Orchestra homed in on their signature cosmic roots aesthetic, brimming with cinematic songcraft, impressionistic lyrics, clever arrangements, telepathic ensemble interplay, and soulfully world-weary vocals.
Marty O'Reilly & the Old Soul Orchestra features Marty on electrified resonator guitar and vocals, Chris Lynch on violin and keys, Ben Berry on upright bass, and Matt Goff on drums and percussion. The group specializes in roots music with evocative lyrics that are conceptually cryptic, relying on imagery and symbols to convey emotion. Artistic touchstones for the group include John Lee Hooker, Howlin' Wolf, the darkly cathartic oeuvre of Tom Waits, and the experimental arrangements of Radiohead.
The album represents the maturation of artists shedding hero worship and embracing the creativity within. These new frontiers are characterized by a heartfelt purity in Marty's vocals, the tracks' unique and richly expressive chord structures and progressions, a shift in narrative perspectives to a more observational bend, and emotionally dynamic arrangements that are beautifully arresting, often beginning with sparse simplicity and then reaching lush and fully orchestrated climaxes with sensitive group interplay.
Stereoscope is no doubt a milestone entry for Marty O'Reilly & the Old Soul Orchestra, offering forth the band's most assured and mature release to date. "We put our heart and soul into this album," shares Marty. "It's the album I've always wanted to make— one that ten years later I can still be proud of. Making it has made me feel whole, and brought me a lot of joy."
SARITAH
SARITAH (sa-REE-ta) is on a worldwide musical mission to uplift, inspire and heal. Bursting with an organic sound that is a uniquely feminine blend of reggae, roots, soul and acoustic flavours, Saritah has a relentless passion for reawakening truths, contributing to the worldwide raising of consciousness, and inspiring people to live their purpose and follow their dreams.
Her latest single HERE WE STAND, released Nov. 22 2017, is an anthem for Mother Earth, a plea and a chant to action for people worldwide to stand up today and protect the only home we have. Produced by Mista Savona ('Havana meets Kingston'), HERE WE STAND is a response to the current onslaught of pollution and destruction that big business is inflicting on land and water across the planet, and the indigenous-led worldwide movement to protect what precious life is left. The video, filmed and edited in Aotearoa (New Zealand), featured on reggaeville.com and has received a great deal of positive attention from across the world.
Born in Seoul, South Korea, raised in Perth, Australia, and currently based in California, Saritah calls the world home. Inspired by the beauty of the planet we live on, as well the overwhelming realities that face humanity on a day-to-day basis, her songs are celebrations, revelations, invocations, affirmations.
Equally at home fronting a full band on the big stage with an audience of thousands as she is with an acoustic guitar in front of an intimate crowd, Saritah has a positive vision for the future that shines through every word she sings and every note she plays. Playfully powerful, she has become a festival favourite with her infectious, beaming smile and colourful, energetic live shows. Saritah has graced the stages of some of the world's most renowned musical gatherings and stages.
Festival host Johanna Nagan
Johanna Nagan is the owner of Blondies Food and Drink in Arcata, California, co-founder of the Mr. Humboldt Pageant and cat herder—AKA the mother of two young children.
GENERAL INFORMATION
This FREE, family-friendly music festival will take place right next to Redwood National and State Parks, home of the world's tallest forest. This fantastic event will celebrate the League's 100th and Redwood National Park's 50th anniversaries. It offers great live music, a variety of children's activities, local vendors and an assortment of other interactive programs provided by our Centennial partners. This is a totally free event, so grab your family and friends and join us!


---
SPONSORS AND PARTNERS
Thanks to our sponsors!
Orick
National Park Service
Redwood National Park
Redwood Parks Conservancy
California State Parks
Sierra Nevada Brewery
Barefoot Cellars
More to come
San Francisco
National Park Service
California State Parks
California Academy of Sciences
East Bay Regional Park District
Oakland Trails
California Library Association
San Francisco Public Library
San Francisco Giants
UC Berkeley's College of Natural Resources
Sierra Nevada Brewery
BARTable
KPIX-TV
Alice@97.3
KCBS
And a big thank you to our generous In-Kind Sponsors who are providing their products for both Festivals: