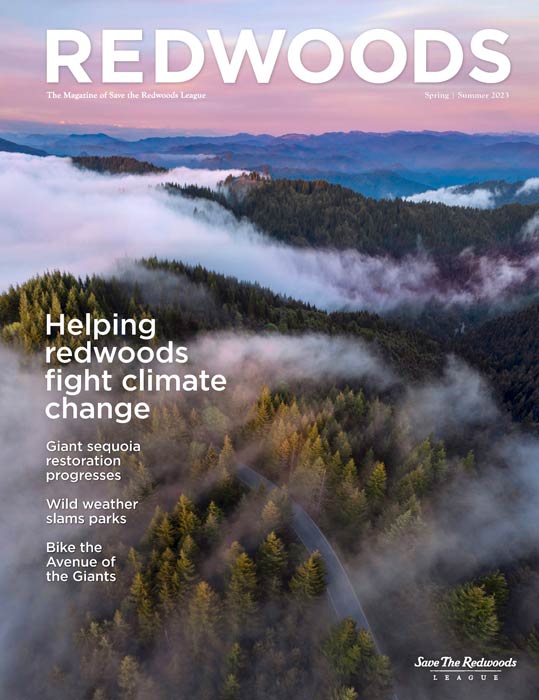 Welcome to the Spring/Summer 2023 Edition of Redwoods
Towering coast redwoods and giant sequoias tell a story of hope and resilience. We interpret that story in this edition of Redwoods, spotlighting what we've learned from the groundbreaking Redwoods and Climate Change Initiative. The story of resilience also is evident in the Sierra Nevada, where the League and our partners are making great strides in saving giant sequoia groves from catastrophic wildfires. We also cover parts of the climate change fight in other updates, including the progress in restoring damaged forest in Redwood National and State Parks. Despite bleak reports on climate change, we've learned that if we make the right investments today, the redwoods can help save us.
Join our thousands of members today for only $25, and you'll get future editions of our Redwoods magazine.
---
CONTENTS
---
President and CEO
Sam Hodder
Chief Marketing and Communications Officer and Editorial Director
Jennifer Benito-Kowalski
Director of Communications and Editor
Garrison Frost
Senior Manager of Marketing Communications and Managing Editor
Jennifer Charney
Print Art Direction and Design
Day Projects
Digital Marketing Manager
Marcos Castineiras
Digital Marketing Specialist
Caleb Castle
Since 1918, Save the Redwoods League has protected and restored redwood forests and connected people with their peace and beauty so these wonders of the natural world flourish. Your donations help us purchase redwood forests and the surrounding lands needed to nurture them; regenerate logged forests so they become spectacular havens for future generations; study how to best protect and restore these global treasures; and connect all people with these magical places.
---
CONTRIBUTORS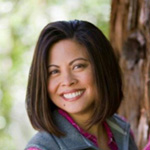 Jennifer Benito-Kowalski
joined Save the Redwoods League in 2007 as the director of outreach and is now the League's chief marketing and communications officer.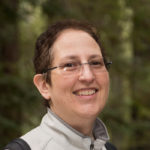 Jennifer Charney
, senior manager of marketing communications, leads the production of many Save the Redwoods League publications. She brings a lifelong love of nature to her role.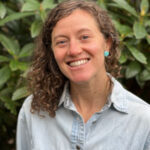 Hollie Ernest
works in botany and forestry on the north coast of California in Humboldt County. Her work has been published in North Coast Journal, Adventure Cyclist, and The Lesson Collective.
Max Forster
is a coast redwood enthusiast and photographer based in Humboldt County, California. His work has been published by
American Forests
and various online outlets.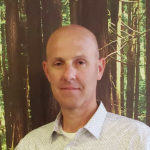 Garrison Frost
joined Save the Redwoods League in 2019 as its director of communications.
Juliet Grable
is a writer based in Southern Oregon. Her work has been published in
Sierra
,
Audubon
,
Earth Island Journal
, and other national and regional publications. Photo by Brint Borgilt.
Sam Hodder
joined Save the Redwoods League as its president and CEO in 2013. He brings more than 25 years of conservation experience in California, Oregon, Washington, New Hampshire, and Maine to guide the League into its second century of protecting redwood forestland.
Tobin Mitnick
is an actor, writer, naturalist, and proprietor of @jewslovetrees, which has over 400,000 followers across social media. His debut book,
Must Love Trees: An Unconventional Guide
, was published this year.
Faith Rumm
is a prolific fine artist who has headed her RummStudio Interpretive Art and Design business for nearly 20 years. She creates displays for conservation efforts across the United States and China.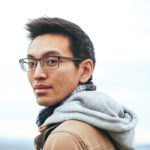 Stanley Shaw
joined the League as Conservation Programs Assistant in 2020. He enjoys combining his passion for the redwoods with his longtime hobby of photography.