Summer is less than a month away, with its long, golden days beckoning us outdoors for warm-weather adventures. Don't let fall sneak up on you without making the most of this sunshiny season! Here are 12 ways to make the most of summertime in the redwoods.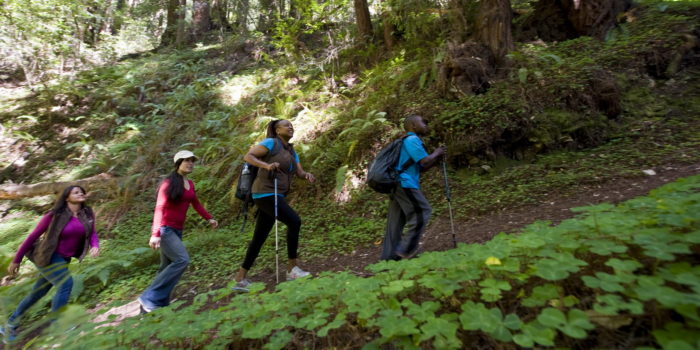 Join a backpacking trip. This summer California State Parks is hosting backpacking trips in the Santa Cruz area, famous for its beautiful redwood forests. The trips range from two to three nights with and are moderate to strenuous.
Camp under the canopy. Day hikes through the fragrant forest, evenings circled 'round the campfire — summer's drier days make for perfect camping conditions. Use the League's free guide 12 Incredible Parks for Camping in the Redwoods, or our free online trip planning tool to discover your next camping trip. Keep in mind that since summer is prime camping time in the redwoods, reservations are recommended.
Find a sweet swimming hole. Nothing says "summer" like a refreshing outdoor swim. The huge, bright-aqua swimming hole at Richardson Grove State Park is calm and deep; here are four more swimming spots for you to include in your warm-weather adventures.
Enjoy a half- or full-day hike. Enjoy the mild summertime climate in the forest on a full-day hike, or take advantage of the extra daylight hours and fit a half-day hike into your busy schedule. Find the perfect hike for you.
Pack a picnic and feast in the forest. Does it get any better than a delicious meal shared with family or friends in the redwoods? Our free guide, 24 Incredible Coast Redwood Parks mentions parks with great picnic spots, like Mount Tamalpais and Samuel P. Taylor. Don't forget to keep endangered wildlife safe by cleaning up every crumb.
Hit the trails on your bike. Mountain bikers can refer to 24 Incredible Coast Redwood Parks to find parks and trails where bicycles are welcome. Del Norte Coast Redwoods State Park is renowned for its mountain biking; trails also abound at Humboldt Redwoods State Park.
Spend the day at the beach. Talk about the best of all worlds — lots of coastal redwood parks also have gorgeous beaches! Jug Handle State Natural Reserve, Russian Gulch State Park, and Gualala Point Regional Park are a few. Be sure to bring warm layers in case the fog rolls in.

Big River, Mendocino Headlands State Park. Photo by JD Lasica, Flickr Creative Commons

Take to the water in a canoe or kayak. Check out six picturesque places to paddle, including gentle floats on the Russian River in Sonoma County and the Navarro River in Mendocino County.
Bring your canine pals. When you head off on your summertime outdoor adventures, you don't have to leave your dog at home – many parks such as Samuel P. Taylor State Park, Arcata Community Forest, and Pogonip, have dog-friendly trails.
Build trails. Join Land Trust of Santa Cruz County on Fridays to build San Vicente Redwoods' trail network.
Go wildlife-spotting. Each redwood park is home to diverse wildlife – keep your eyes peeled for all manner of critters in and around the forest. Birders will be thrilled by glimpses of spotted owls at Grizzly Creek Redwoods State Park, while at Prairie Creek Redwoods State Park, you can visit the grazing herd of Roosevelt elks. Look for frogs and newts at Montgomery Woods State Natural Reserve, and at Humboldt Lagoons State Park, see if you can spot bald eagles, snowy plovers, whales, and dolphins.
Experience a national park – for free! The National Park Service is offering free admission (to those sites that normally charge an entrance fee) on three more days in 2022. Thursday, August 4, Anniversary of the Great American Outdoors Act; Saturday, September 24, National Public Lands Day; and Friday, November 11, Veterans Day.
The redwood forest offers something for everyone year-round, but in the summertime, the sky's the limit. Let us know how you make the most of the redwoods this summer!