Here were our top stories from a challenging year
To say that 2020 was eventful—for the League and for pretty much everyone on the planet—is the understatement of the century. While we weathered many storms together, we also experienced many moments of hope and big conservation wins. Here are our 20 top stories from 2020, in no particular order.
1) Public launch of Forever Forest: The Campaign for the Redwoods
We started 2020 with a bang in January when we gathered with hundreds of our supporters at the Palace Hotel—the site of the first League board meeting more than a hundred years ago—to celebrate the public launch of Forever Forest: The Campaign for the Redwoods. To date, we have raised more than $92 million through the campaign to support the our Centennial Vision for Redwoods Conservation, including the acquisition of properties like Alder Creek, landscape-scale restoration through Redwoods Rising, and creating new and better redwood parks like Harold Richardson Redwoods Reserve.
2) Redwoods as climate change heroes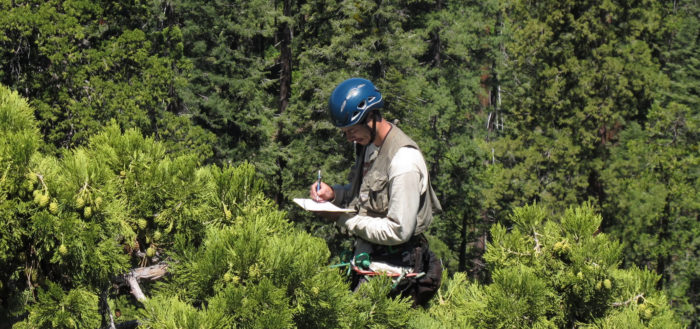 Through our Redwoods and Climate Change Initiative, critical research emerged confirming the outsized role that coast redwood and giant sequoia forests can play in fighting climate change in California. Our coast redwood forests store more carbon per acre than any other forests ever measured, with giant sequoia right behind. RCCI research also revealed that younger second-growth coast redwood forests grow quickly enough to store a substantial amount of carbon in a relatively short period. This makes a strong case for investing in the restoration of previously logged redwood forests.
3) Redwoods Recharge
The moment we all had to shelter in place and work from home due to COVID-19, with many of the parks closed, we realized we needed to stay connected and bring some joy—and the redwoods—to our community. We were inspired to create a weekly newsletter called Redwoods Recharge, which featured uplifting videos, playlists, and stories from the redwoods.
4) Redwoods Rising on the ground
Even as we continued to social distance, we were able to get our Redwoods Rising crews working on the ground in two critical watersheds within Redwood National and State Parks. In 2020, the program's first full year of on-the-ground implementation, we employed nearly 100 restoration workers and supported local businesses, helping to bolster a growing green economy and workforce in the north coast region. This work will bring back the redwood forest that was historically logged before the area was protected by the parks.
5) We protected Andersonia West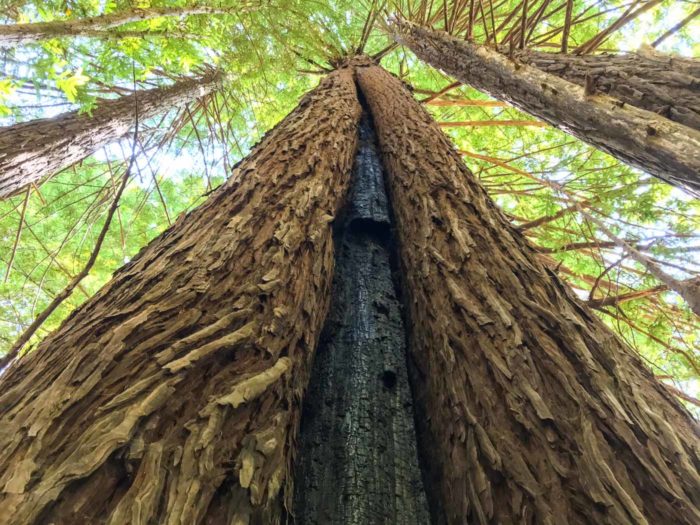 We acquired Andersonia West, a critical habitat corridor in a vast network of approximately 180,000 acres of protected lands on the remote Lost Coast, protecting hundreds of acres of old-growth coast redwoods.
6) Partnership with Latino Outdoors
We were saddened to have to halt many of our in-person outreach programs this year, but we were able to innovate and continue an important partnership that had been in the works with Latino Outdoors. They created some super fun and educational videos of naturalist-led walks in the coast redwood and giant sequoia forests to bring the redwoods to their community.
7) Passing the Great American Outdoors Act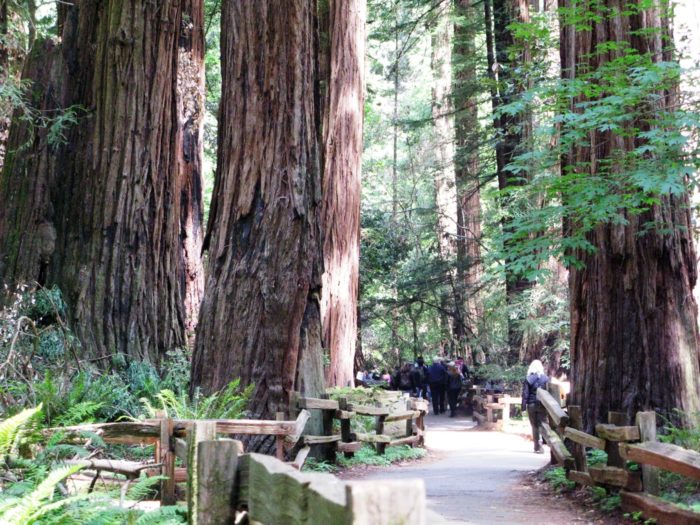 We joined many in our conservation community to cheer on, and ultimately celebrate, the passing of the Great American Outdoors Act, including full, permanent funding of the Land and Water Conservation Fund!
8) Reckoning with our founders' eugenics history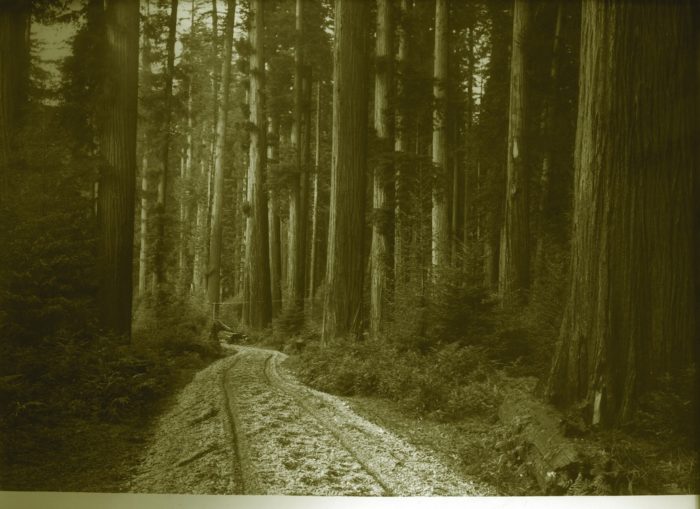 After years of working behind the scenes, this year we made a public commitment to elevating diversity, equity, and inclusion at the League. A big part of this was acknowledging and denouncing our founders' historical connections to eugenics. We are proud that the League's Board of Directors also took a monumental step in passing a resolution recognizing this important work.
9) Creating trail access to amazing redwood groves
Despite the constraints of COVID-19, the League pressed on with its work to open up redwood opportunities for people. We were greatly pleased to partner with the Mendocino Land Trust to reopen the Peter Douglas Trail through the Shady Dell candelabra redwood trees in Mendocino County. This reopening follows more than a year of restoration and repair efforts to Usal Road and the Peter Douglas Trail that were damaged in the 2019 Usal Fire. We also continued to make great progress on the new walkway through the Grove of Titans in Jedediah Smith Redwoods State Park. This terrific project is set to reopen to the public in 2021.
10) Rebuilding Big Basin Redwoods State Park
We were heartbroken to see the CZU Lightning Complex fires burn down the infrastructure in Big Basin, California's oldest state park. However, it was an honor to be able to raise $543,000 in partnership with Sempervirens Fund, and donate those funds to immediate rehabilitation needs at the park. We're looking forward to continuing work with our partners in 2021 to reimagine this historic park for a 21st-century California.
11) We protected Cascade Creek
Back in May we were able to raise $9.6 million to acquire and steward Cascade Creek, a critical missing puzzle piece that connects Big Basin Redwoods and Año Nuevo State Parks from the Santa Cruz Mountains to the Pacific Ocean. On December 9, we closed on the acquisition, which permanently protects 564 acres of old-growth and mature second-growth forests. While the land also burned in the CZU Lightning Complex fire, it will recover, and it is already showing signs of healthy regeneration.
12) Staying connected through Zoom meetings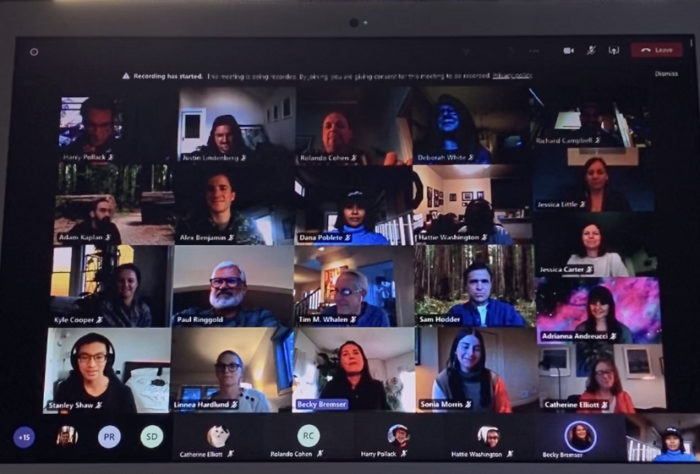 Say what you want about "Zoom fatigue," but it was a really great way to maintain a little bit of face time with our colleagues—and their pets. While we closed our offices and suspended in-person donor events to keep everyone safe, video conferencing turned out to be a great way to stay connected to each other and with supporters from all over.
13) Fire and redwoods
Wildfires in 2020 burned more than 4 million acres in California, far exceeding previous records. Many of these fires touched our coast redwood and giant sequoia groves. As of the first week of December, wildfires covered more than 81,279 acres of coast redwood forests, approximately 4.9 percent of the total redwood range. Fire also burned in more than 16,573 acres of giant sequoia groves, approximately 35 percent of the total range. Out of just 117,679 acres of old-growth redwood forest remaining in the world today, more than 11,178 acres experienced fire. We tracked the fires through numerous updates on our website and social media. We also shared the best science on how fires interact with these forests, and created a compelling online story to detail the particular plight of giant sequoia.
14) Take Me to the Trees Annual Celebration
We hosted our Take Me to the Trees Annual Celebration for the first time online! While we missed being face to face with our members and partners, it was a magical evening and a huge success. We are so thankful to our brilliant Special Event Manager Luz Perez, our fabulous Event Co-Chairs Rosemary Cameron and Allegra Krasznekewicz, amazing performers Cam and Michael Franti, and our supporters who helped us raise more than $676,000 for our parks programs.
15) Two powerful issues of REDWOODS Magazine
In the middle of a global pandemic, an economic crisis, a growing racial justice movement, and then a devastating wildfire season, we published our biannual editions of REDWOODS Magazine. We worked hard to depict a fuller, richer image of redwoods culture that speaks to both our longtime members and new and diverse audiences. We hope our stories of hope and resilience brought a sense of peace to our full community.
16) We completed an amazing redwood curriculum
After years of hard work by our incredible Education & Interpretation Manager Deborah Zierten, we completed our comprehensive redwood curriculum for K-12th grade! We will be continuing to work to incorporate this curriculum into schools across California, as well as further enriching it with lessons around fire and stories told by California tribal communities.
17) Redwoods made the cover of the New York Times
The coast redwoods and giant sequoia had a big moment when the New York Times sounded the alarm for the unprecedented challenges faced by California's most iconic tree species. With insights from our Director of Science Kristen Shive, League President and CEO Sam Hodder and our friends at California State Parks, the story elevated the urgent need to protect and restore the redwoods for future generations.
18) An important discussion about fire in the redwood forests
Kristen Shive and Sam Hodder hosted a fascinating webinar, Modern Fires in Ancient Forests, discussing fire ecology and the League's work to restore climate and fire resilience in coast redwood and giant sequoia forests.
20) Redwood Parks Fund and Giving TREESday
In 2020, it was clear to us the fundamental role that redwood parks and public lands play in the well-being of our communities. The redwoods inspire us all with their resilience, and we need more parks, and better parks, for the future as we heal from not only the tough times but also from the lessons we've learned on the journey of this year. With that in mind, we launched our Redwood Parks Fund with Giving TREESday, raising more than $70,000 and exceeding our goal of $30,000 for the day.
In fact, we were extremely heartened by our members' sustained giving through all the challenges of 2020. We are so grateful to you all. We hope you have a happy new year!