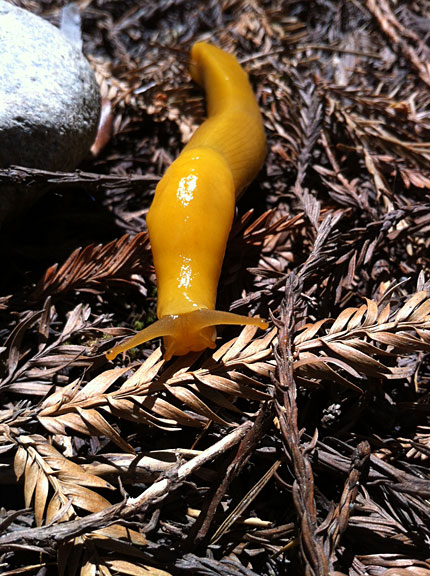 The League's education program brings thousands of students to the redwoods every year for a unique and often, unforgettable experience. Field trips range from one-day experiences to three or five days immersed among the redwoods. These experiences happen throughout the redwood range with students of all ages.
High school students learn about the redwoods through the lens of climate change, elementary school students learn the role redwoods play in their watershed, and junior high students collect data on phenology. Although the students are looking at redwoods differently, one thing that unites them is their love for finding and counting banana slugs.
If koalas are the symbol of eucalyptus forests, then banana slugs are our mascots. They are the second largest slug in the world, and their bright yellow color makes them hard to miss — making them a fun creature to find in the forest.
This past spring, I brought 75 students from Oak Ridge Elementary in San Jose to Henry Cowell Redwoods State Park for a day of exploring the redwoods. As we were walking through the old-growth forest, they spotted their first banana slug. After that first sighting, the counting began. Five, 10, then 15, and each observation with as much excitement as the first.
Below are some quotes from the students about their trip.
"We had a competition on who can find the most banana slugs, and we won! One class saw 27, and we saw 50."
"Another reason why this field trip was awesome is we found so many banana slugs. We found over 50 banana slugs. Isn't that cool."
"There are many things I have learned about redwoods. For example, how they provide and give homes to wildlife. Redwoods provide homes for some banana slugs, spotted owls and even some salamanders."
Who knew that something as simple as spotting and counting banana slugs could have such a lasting impact on the students. Nevertheless, the banana slugs are just one simple way to engage and excite the students in the forest. They come away from their field trip with a lasting experience and one they want to share with friends and family.
"Another thing I like about the redwood is that when we got to touch the leaves on a plant, it felt so fluffy like it could be clouds. Now that I have seen redwood, I will work on saving them."
Ceylon, third-grade student
These field trips are made possible by generous donations from members of Save the Redwoods League. To learn more about our education programs visit our programs webpage.