If you are an amateur naturalist like me, you take pleasure in being able to identify plants and animals as you hike through the forest. I'm still trying to learn the names of common redwood forest plants, and I always carry a plant guide with me when I go out for a hike.
For me, the trick to identifying forest plants is finding one or two unique characteristics that I can remember even if I don't see the plant again until weeks later. Often this is easier said than done, but sometimes you get a plant that just screams, "Remember me!"
In a small redwood forest at Pepperwood Preserve in Sonoma County, I recently found one of those memorable plants. We came across a thorny plant with coarsely toothed leaves and soft hairs. The thorns and leaf shape told me the plant was in the berry family, but it had something different which I had never seen before – a distinct whitish-blue stem. I knew it wasn't one of the typical berries you see in a redwood forest — blackberry, thimbleberry or salmonberry — but couldn't identify it right then and there. So, I did a little research, and this is what I learned.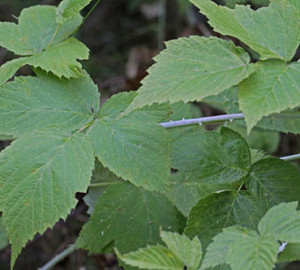 White bark raspberry or black raspberry (Rubus leucodermis) is in the rose family. It is found in the western part of North America from Alaska to southern California. It is thought that Native Americans used the plant in various ways. In addition to eating its fruit, they made leaf and root infusions to treat upset stomachs, and made a powder from the stem for wounds and cuts. It is considered a good plant to attract native bees and produces delicious berries.
I was pleasantly surprised when I found this plant, because with its distinct stem color, I knew I would not forget its name. Next time you're out in the forest, look for a berry with a distinct whitish-blue stem and be happy you can confidently identify it as white bark raspberry.
For a list of other common redwood forest plants and their interesting uses, read my blog on How to Survive in a Redwood Forest.