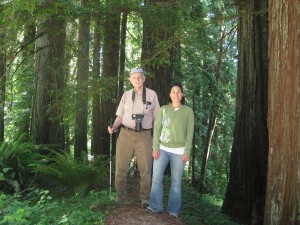 Thanksgiving is one of my favorite holidays.  Not only is it a day spent with family and great food, but it also provides an opportunity to reflect on the year and express our gratitude. November marks my  seventh anniversary working with the League, and other than the experience of immersing myself in the magic of the redwood forest, I have come to be most thankful for our members!
The League has over 20,000 members, many of whom have been giving for 20, 30, 40, even 50 years. And, there are nearly 600 members in our Redwood Legacy Circle! Over the last seven  years I have truly been inspired by the passion and dedication of our supporters. I shudder to imagine the difficult feat of protecting redwood forests with anyone else less committed than they are.
Together, since 1918, we have protected more than 190,000 acres of redwood forestlands, helped develop the existing California State Parks system, creating dozens of parks and preserves for people to enjoy. Today, more than 60 percent of land in California's existing redwood parks and preserves is protected as a result of the League's work, which simply would not have been possible without our members. THANK YOU!
There are many ways you can continue your leadership supporting effective redwood land conservation and restoration, especially this holiday season! Give a gift of membership, plant a seedling in honor of someone, and take a stroll in a redwood forest and experience the awe and majesty these trees have to offer!
Thank you so much for all that you do for the redwoods!