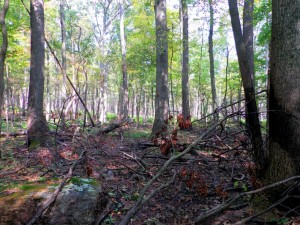 In discussing fire,
it is important to think about who managed the forests before us, and how that has influenced what the forests look like today
. Many different Native American groups lived throughout the redwood region, each utilizing the natural resources of their local environment.
Annual burning was a common practice of many native tribes
for a number of reasons. They burned hillsides to improve the grasses there so that deer and elk would frequent the area and could be hunted easily. Increased grass production also provided more grasses for basketry.  Additionally, Native Americans wanted to improve production of acorns, which were a major food source for them.
By burning the forest understory, openings in the canopy were produced which allowed acorn-bearing oaks to grow better.
Regular burning is also thought to have reduced insect infestation, thereby improving acorn quality.  In some areas, understory burning stimulated the production of specific herbs or shrubs which were used by the natives.
When Native Americans occupied a new area, burning was conducted to establish villages. Burning around villages provided a fire break around the area they were living in and reduced the intensity of accidental fires protecting their homes.
While Native Americans used the land, intervals between fires are thought to have been between 11-15 years. After 1850, when Europeans occupied the region, fire frequency diminished and fire suppression practices began. This has caused a build-up of understory forest debris, which now can contribute to causing the large, catastrophic fires we have seen in recent years.
Knowing the history of fire and redwood forests, should we continue to use fire to manage our forests as Native Americans did? There is no clear answer to redwood forest management when it comes to fire, but looking to the past can definitely help with making decisions for the future.