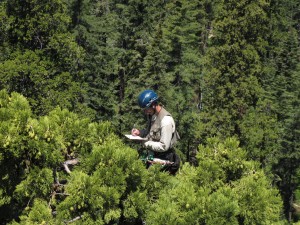 It's National Environmental Education Week! This week is a celebration of environmental education and a special time to inspire learning and stewardship among students. I can't say enough about how important outdoor education is to complete the circle of land conservation!
But learning is lifelong, so this week I'm sharing my top five favorite facts about the redwoods.
5. This fact is "old" news, but that doesn't make it any less amazing: redwoods can live to be more than 2,000 years old, and some redwoods living today were alive during the time of the Roman Empire! The oldest-known redwood is 2,520 years old, and was discovered fairly recently through the League's Redwoods and Climate Change Initiative research program.
4. The old-growth redwood canopy is home to a complex community of animals, plants and lichens living hundreds of feet in the air. The wandering salamander is one of those species and it can live its whole life in a single tree. League RCCI scientists are among the first to explore the redwood canopy – stay tuned as we keep learning!
3. Redwood forests are superlative at sequestering, or storing, carbon – they hold at least three times more carbon aboveground than any other forest in the world.
2. Our national park system is a model for parks systems around the world – and it all began in 1872 with a park to protect the Mariposa Grove of giant sequoias, marking the first time land was set aside for preservation and public enjoyment.
1. The fight to save the redwoods inspired the conservation movement and the state parks system in California.
One of the wonderful things about the redwood forest is that with its rich, fascinating history and ecology, there is always more by which to learn and be inspired.
What are your favorite facts about the forest? Share them below!