Last week's blog began, perhaps a little cavalierly, with the assertion that growing big trees may be the easy part of redwood forest restoration, and so far as it goes that's a fair assessment.  It also may be a little misleading.  Redwoods restoration is all about growing the right trees, not just big trees, and in a future blog, League Forester Richard Campbell will take a deep dive into how we replant the "right" redwoods.  For now though, let's just say that redwoods vary from place to place.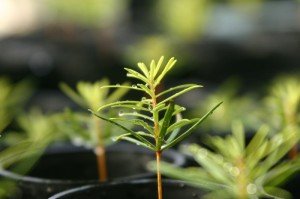 Over time and across the redwood range, local trees evolve subtle differences in response to longitude, latitude, elevation, micro-climate, proximity to water, soil type, what direction the slope they grow on faces, and a host of other factors.  Redwoods naturally regenerate from both stump sprouts and seeds, but for many restoration projects — for example in restored road cuts — stumps aren't present, so planting seedlings grown from seed is the only way to go. But not trees from any old redwood seeds! Ecologists and in many cases the environment itself demands seedlings that are as closely related as possible to nearby redwoods — seedlings with what restoration ecologists call "genetic integrity."
To ensure genetic integrity at restoration projects, California State Parks operates a tree nursery at Humboldt Redwoods State Park managed by long-time nursery manager Tom Milligan. Tom works with volunteers to collect seeds, a task not a simple as one might think. Redwood seeds are tiny: literally thousands fit in a small jar. Redwoods don't produce seeds every year, and restoration projects are often years in the making.
So, Tom is constantly prowling the forest around potential restoration sites looking for trees that are ready to produce seeds.  When he finds a likely tree, Tom returns with his volunteers, tediously collecting seeds one by one which will then be refrigerated for at least one winter until they're grown out as seedlings and begin a life that may last a millennium or two—but not before all the permitting, road removal, and the natural topography and streams are restored (or at least "naturalized", but that's a topic for another blog).
Check out Richard Campbell's blog on Wednesday to learn more!