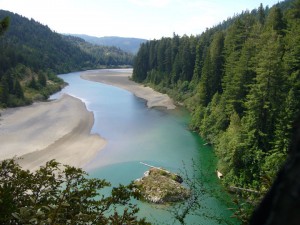 Given the super-warm spring we've had in California, this summer could turn into a scorcher! Sweltering summers are perhaps the best time all year to load up the wagon and experience the redwood forests in Humboldt County the way locals do, as natural water parks. The Eel River, a federally designated Wild and Scenic River along the Avenue of the Giants, and Redwood Creek, which is surrounded by the world's tallest trees in Redwood National Parks, have plenty of kid-friendly swimming holes.
Believe it or not, the summer temperatures along the banks of both streams can reach the 80s and low 90s (out of the shade), while the water and nearby forests remain comfortably in the 70s. It's the perfect environment to toggle back and forth between hot and cold. One can lazily bask in the sun, then cool off with a swim or a hike, or a combination thereof.  After years of research, much of it with kids in tow, here are some suggested places to make a big splash among the big trees with the family.
Eel River swimming holes along the Avenue of the Giants in Humboldt Redwoods State Park include Leatherwood Bar, a popular and scenic sandy beach across from the Founders Grove; the Women's Federation Grove, a giant swimming hole with picnic tables, bathrooms and potable water; Eagle Point, an awe-inspiring river bend near the Hidden Springs Campground; and Landsdale Bar, sometimes known as Green Goose, near the town of Miranda, which has a deep swimming hole, rocks to hang on and a gently sloping bank where kids can play in knee-deep water. In late summer, it's best to check current conditions (see websites below) because the Eel can run too low for recreation, and could be unsafe for pets.
In Redwood National Park, those who go along Redwood Creek 1.5 miles upstream of the Tall Trees Grove (be sure to check out that destination for immense old-growth trees, too!) are rewarded with a series of secluded, boulder-laden swimming holes, the first the length of a football field. Wear river shoes as the trip requires walking on gravel bars and in the stream.
For more information, visit: Redwoods.info, GuideToNaturalSwimmingHoles.com, and Swimmingholes.org/ca.
Blog written by Richard Stenger, media & marketing director for Humboldt County Convention & Visitors Bureau.