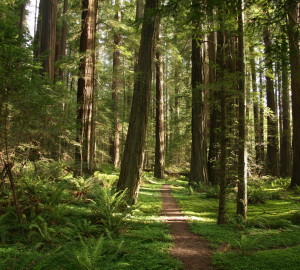 Here at Save the Redwoods League, we get a kick out of celebrating Star Wars Day every May 4th (as in, "May the 4th be with you…"). Of the 460 planets that exist within the Star Wars films, where would you like to visit? The murky swamps of Dagoba? The floating Cloud City? Perhaps you'd opt for a gentle frolic with the tauntauns of Hoth?
I've always found the tree forts on the forest moon of Endor appealing, and with good reason: these scenes were filmed in the redwoods! I can't promise any Ewoks, but here are three parks where you can relive the glory of galactic civil war from Return of the Jedi. Don't forget your lightsaber.
Humboldt Redwoods State Park. Some of the scenes for the speeder bike chase sequence were filmed from the back of a truck driving down the Avenue of the Giants. You may not have R2D2 to guide you, but you can download our Avenue of the Giants Auto Tour to listen to on your drive. These are the trees you're looking for.
Jedediah Smith Redwoods State Park. Many people speculate that filming was done here — perhaps near Stout Grove? You'll have to use the force to figure it out the next time you visit.
Grizzly Creek Redwoods State Park. A long time ago in a galaxy not too far away, the steadycam shots of the speeder bike race are said to have been filmed here. Explore the leisurely trail through Cheatham Grove with your whole family.
Dedicated Star Wars fans and redwoods aficionados alike have put some admirable effort into trying to figure out where each Endor scene took place. Unfortunately, much of the filming was apparently done on private land, where the redwoods have since been cut. But, you can still visit one of these spectacular parks where the redwoods are protected in perpetuity, and you'll feel like you're in another world — or galaxy — altogether. For even more park options, try the Redwoods Finder Interactive Map.
Did you say you'll try to go visit? In the words of Yoda, "Do or do not. There is no try."
Yoda speak aside, tell us how much you love Star Wars in the comments, and may the force be with you.
p.s. Thanks to M. Vaden for your Star Wars and redwoods expertise!