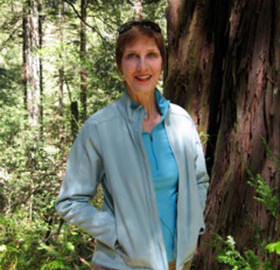 Rosemary Cameron has a deep affection for local, county and regional parks. She spent most of her career helping them thrive. Retired from the East Bay Regional Park District in 2010, Cameron is now on the Board of Directors of Save the Redwoods League.
"Until you really get involved, you don't understand the depth and breadth of the work the League does," Cameron said.
She was drawn to the League, in part, by its ability to create public space through people power. "Some of its early acquisitions helped lead to the formation of our California State Parks system, and that's a very compelling part of its history," she said. "Yet, there's a larger theme: the incredible importance of citizen involvement."
As California's budget cuts threaten the state's world-class park system, Cameron believes that the League's work is more important than ever.
"It seems that the League's long-time and even new donors are particularly interested in helping ensure that property acquisition continues. As we used to say at the Park District, 'God isn't making any more land.' It's a nice way to remind us that acquisition needs to be attended to now rather than later, to ensure that endangered redwood groves are protected for future generations."
She's still a champion of the protected redwoods of the East Bay Regional Park District. "It's amazing to have these beauties literally within the Oakland city limits," she said, but acknowledged that she also has a soft spot for a childhood idyll. "My parents took us on frequent trips to Muir Woods. It was always magical."
She hopes to help the League move into its second century of protecting redwoods. "We are working on developing citizen-based programs to promote awareness, increase and improve visitation, and enhance education and research," she said.