Ever wondered how big that tree in your backyard is?  There are many ways to measure the heights of trees, but most of them unfortunately require lots of time, money, and specialized equipment.  There is one method, however, that needs nothing more than a stick and a measuring tape (unless you already know how long your stride is).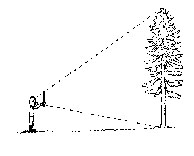 First, find a place where you can clearly see the top of the tree (if not, a little fudging is ok).  Next, find a stick that's about the same length as your arm.  Hold the stick along your arm until the end just reaches your face, and then turn it so it's held vertically. Hold the stick straight out, and level with your eye.  Line up the bottom of the stick (your hand) with the bottom of the tree and move backward or forward until the top of the stick matches the top of the tree.  Once you are in a place where the entire length of the tree and nothing more is covered by the stick, the distance from you to the tree is the height of the tree.  Mark your spot, then use a tape measure to find the distance to the tree (or pace it if you know the length of your stride), and there you have it, the distance from you to the tree is the same as the height of the tree.
There is a little bit of accuracy lost by aiming right at the base of the tree, so if you want to be really particular, aim the bottom of the stick at a spot eye-level on the tree, then just remember to add 5 or 6 feet to account for the distance from your eye to the ground.
This is a pretty accurate – but not precise – way to measure trees.  How big is your favorite tree?