Redwoods do fine in Southern California, right? Researchers at UC Irvine are not totally convinced.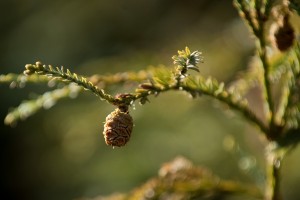 In the 1980's a scientist by the name of Ernest Ball cloned coast redwood giants from Northern California and reared test-tube redwoods. Many of these trees were planted on the UC Irvine campus, and rumor has it that these trees are looking rather shabby, reminiscent of the Charlie Brown Christmas tree. These redwoods are watered regularly, so why aren't they thriving?
Researcher Elizaveta Litvak from UC Irvine recently studied these SoCal redwoods and found that they are using less water than many other trees planted in the area. It appears these trees are partially closing their leaf pores (called stomata) in response to the dry environment. As these pores close to conserve water, less carbon dioxide from the atmosphere gets into the leaves, and these redwoods may not be able to make enough sugar through photosynthesis to feed themselves. Starving because of drought is a phenomenon that has been found before in other plants from other places, so maybe this is affecting Southern California redwoods too.
We need to study more redwoods in other climates so we can understand in which conditions they can survive, and in which conditions they just can't! Learn more about redwoods and climate change and help us track redwoods in various climates around the world.