Alme Allen creates stools inspired by Karuk and Yurok cultures
A recent conversation with Yurok Tribal artist Alme Allen left me feeling so inspired. With his easygoing, happy, can-do vibe, it is clear he is passionate about the work he does, what it means, and how it elevates his community.  
Alme creates beautiful stools inspired by his Karuk and Yurok culture. The League recently contracted with him to produce nine traditionally inspired concrete stools, which will be placed at various redwood state parks in Humboldt County.  
"The concrete stools are so important because they are a way to Indigenize landscapes and public spaces through interaction," says Alme. "They are the continuance of our traditional art moving forward and are the key component to my artistic vision."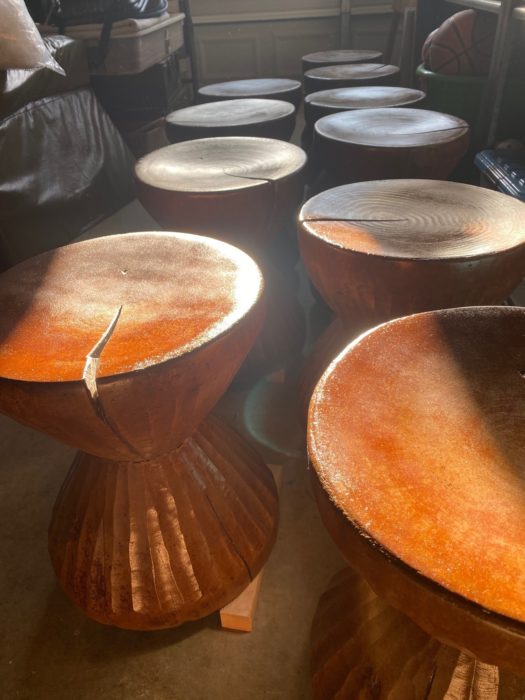 He makes the stools using custom cement molds that were created from his traditional stool carvings, which were hand textured using traditional adze tools. After the concrete stools are cast, he then utilizes the acid staining process to give them their final color to match the natural tones of redwood. This makes each piece unique and complete. Alme was inspired to create art from a young age watching his father and grandfather carve bows and spoons and various other items. He says they never used the word "cultural art"; everything has a function, from baskets to boats, utensils to stools. It was important for Alme to continue in his elders' footsteps and create something that is useful with his hands.  
He started producing the stools out of wood to be used at his tribe's Brushdance house. He carved one, then a few more, which were used in ceremonies. His switch from wood to concrete took 17 years, as it is very costly to have the carvings molded and it wasn't until he designed a project for the Yurok Tribe that this vision became a reality. Now this new version of the stools can last longer in outdoor public places.   
"Money spent to support my work often gets turned back into cultural projects, so you are directly supporting our grassroots community," Alme says.  
"I've sort of made a commitment, not only to myself, but also to my community and especially young cultural artists—like myself at one time—to help them develop their talents through mentorship," he says. "After all, what good is acquiring a lifetime's depth of knowledge and skill if it is not to be passed down? This is the way our culture has always worked and one of the reasons you see such rich traditional art coming from our area. This, coupled with a resourceful and abundant landscape, made work like our baskets and carving traditions truly bloom." 
Learn more about Alme Allen and Karuk Carver Studios through Instagram at @upriverallen.