Enormous giant sequoia cross section reveals a fascinating history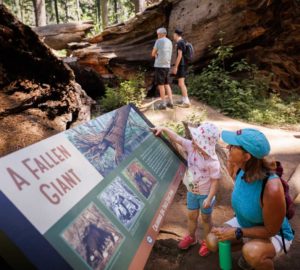 In Calaveras Big Trees State Park, an enormous cross section from a 1,223-year-old fallen giant sequoia now reveals a fascinating history of fires, drought, and injuries. Save the Redwoods League, California State Parks, and Calaveras Big Trees Association opened the Pioneer's Cabin Tree interpretive exhibit in the North Grove in July 2022, after storms toppled the tree in 2017.
In the 1880s, the former owners of the North Grove squared off a fire scar in the tree, creating tunnel that became a tourist attraction. The cross section or "cookie" and two interpretive panels are displayed at a kiosk next to the visitor's center.
A third interpretive panel is next to the Pioneer's Cabin Tree itself.
Click to expand.
---
This feature appears in the beautiful printed edition of Redwoods magazine, a showcase of redwoods conservation stories by leading scientists and writers, as well as breathtaking photos, and ways you can help the forest. Only a selection of these stories are available online.
Join our thousands of members today for only $25, and you'll get future editions of our Redwoods magazine.