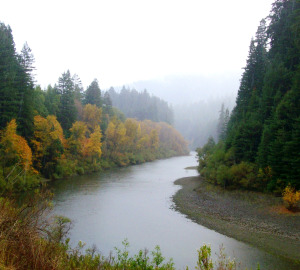 I recently returned from an education conference in Ottawa, Canada and the five days I spent in that beautiful city reminded me that fall, my favorite season, is officially here! It is the time of year when the rains start to come (finally), pumpkins and other winter squash fill our markets, and forest colors change from shades of green to more fiery hues as leaves begin to prepare for winter.
In the Bay Area, fall may not be as noticeable as in other parts of North America, like Ottawa, but the changes can still be observed and are breathtaking nonetheless.
Probably the most noticeable sign of fall are the trees. Deciduous trees, those that lose their leaves, start to change color into the brilliant reds, oranges and yellows which dominate landscapes in places in the northeastern United States. The leaves of these trees change color and eventually fall off in preparation for winter. The change in color of the leaves is due to a breakdown of chlorophyll. During the spring and summer months, the leaves make food for the tree's growth, using chlorophyll to turn energy from the sun into sugars. The chlorophyll is what gives the leaves their green color. In the fall, with the changes in temperature and length of daylight, the leaves stop their food making and the chlorophyll starts to break down since it is no longer needed. As it breaks down, the green disappears and the formerly masked red, orange and yellow leaf pigments become visible, creating the beautiful colors we see now.
Although our fall-changing trees are not as numerous as in the east, we can still see some evidence of fall here on the West Coast. In our redwood forests, look for big leaf maples and vine maples for their changing color. There are also a few deciduous ferns such as bracken fern and lady fern which will be losing their fronds. Some of these
ferns even turn white
as winter approaches.
If you love fall as much as I do, send us your pictures of "evidence of fall" and we will feature them on our Facebook page.