I don't know very many people who feel as I do, but I love rain. I love the unmistakable scent of ozone from low-hanging clouds pregnant with precipitation. I love the earthy scent that follows when the rain is over. It doesn't bother me to drive in it or walk in it, and I have even been known to dance in it on more than one occasion. Beyond the physical sensations of rain, I have a great appreciation for its power. Rain not only aids in sculpting the world around us, but its life-giving properties are innumerable.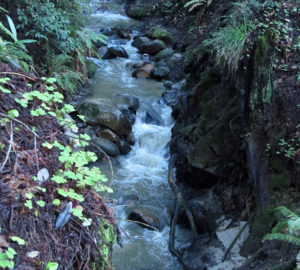 There are those who have been grousing about how much rain we have gotten the last few months, but after witnessing the verdant grass languish under the Golden State sun last summer, I am grateful for it. Because of my affinity for rain, the promise of another rain shower after weeks of nearly constant rain didn't dissuade my husband and me from continuing with our plans to visit Henry Cowell State Park.
Named after the 19th-century industrialist, this park is located in downtown Felton on Hwy. 9, which is situated in the gorgeous Santa Cruz Mountains. For us, the allure of this park was that it offered the promise of larger redwoods than we had seen previously. Additionally, I read that this park boasts 30 miles of trails, some of which are great for all levels of hiking. This is always an added benefit for me because it helps me decide how much hiking I can do and how much I want to challenge myself.
Knowing this, I was still surprised when I arrived to find a level, paved loop, just under a mile in length that afford nearly everyone the opportunity to experience the same type of awe and wonderment that I experience every time I visit a redwood park. In fact, there were many elderly visitors and families on the day that we went. There were even some small children and infants who were being pushed along in strollers while we were there.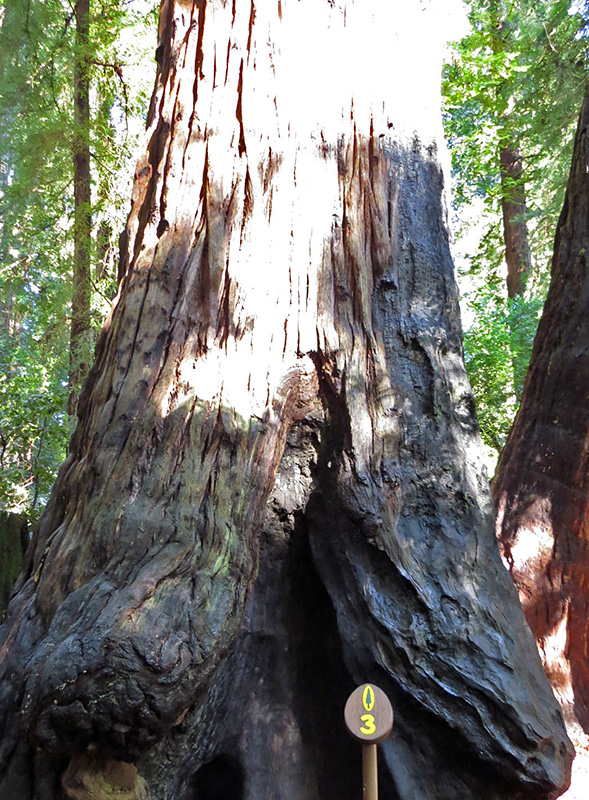 Not only does this great trail offer complete access, but there are several numbered signposts along the loop that provide information about many of the trees and other sights that you will see while walking it. Signpost number three, as seen in the picture, illustrates the remarkable resilience of the coast redwood as it still bears the charred bark that resulted from a forest fire more than a century ago. Even when faced with great conflagrations, redwoods can persevere when the thick, fibrous bark protects the living tissue beneath it.
These trees have surprisingly shallow root systems which tend to grow outward, entwining their roots with other trees, providing additional support to one another. By entangling their roots with the still-remaining root system of a parent tree, other trees can sprout up and help them survive long after the parent tree dies. Although coast redwood roots grow six to twelve feet downward, this is a comparatively shallow anchoring system for a tree that can grow upwards of 380 feet tall.
Another great part of the Henry Cowell State Park experience is that it has several docents that walk along this path to answer questions for visitors. We stopped to chat with docent Dave Kutz who provided us with a wealth of information. Dave educated us on the root systems of these trees. He also explained that the shoots that grow from the base of a parent tree are clones of that parent, providing the offshoot with the exact DNA of the parent tree. He suggested that we not miss seeing "The Giant" which he told us has a 53-foot circumference and is estimated to be about 2,000 years old. This massive tree is located at signpost seven.
Once Kevin and I got to "The Giant," we decided to go off the paved path and venture further into the forest on an unpaved trail. It became increasingly peaceful as it was more difficult for some hikers, especially those with small children, to continue forward. It had also started to cloud up a bit, so I am sure some people decided not to risk getting caught in a rainstorm. Not my husband and I, and I am so glad that we continued. As the forest drew more peaceful, we began to hear the trickling of water. In several areas along the path we took, we were lucky enough to come across what I assume to be wet-weather springs as they were rather small.
On our return trek, we also learned from another docent that, although they can live for thousands of years, when the natural end of one of these trees comes it is usually the result of wind and ground saturation. In fact, "The Giant" lost 75 feet off of its top due to wind. This is where the shallow root system becomes the Achilles' heel for these trees, and the anchoring that I mentioned before can help stabilize them for a while longer.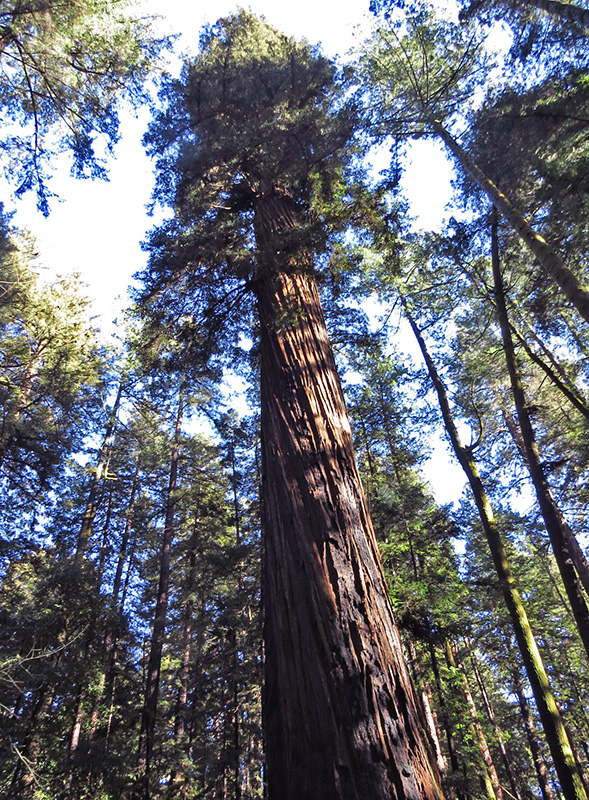 As we continued our walk, we met another docent whom I asked about the twisted appearance of many of the trees. He indicated that this was the result of wind and that it was only the bark that twisted, not the entire tree. He also stated that this bark can grow outward to a thickness of up to a tremendous 18 inches. Although I had previously learned that coast redwoods come from tiny cones, this gentleman pointed out to us that, although the coast redwood is taller than their Sierra sisters, its cone is only about a fourth the size of the Sierra cone.
We spent about 2 hours at this beautiful park. We continued hiking until we got to a point where the path narrowed considerably and was extremely mucky. We decided that it probably was not wise to continue, but the off-the-beaten-path excursion did allow me to take some beautiful pictures.
On our way back to our car, we stopped at the nature center, which is situated near the parking lot. There were more docents there who were very well informed and available to answer questions if we had them. While we were there, we learned more about the creatures that live in the forest, as well as experienced the sights, sounds, and textures of the forest. We even got to see an artificial banana slug. I do realize that all things in an ecosystem contribute to the health of the environment in which they live, but as it was a slug, it was inherently unattractive.
During our adventure, we listened to the bubbling whispers of small, wet-weather waterfalls, enjoyed the rushing waters of the San Lorenzo River as the recent rain forced it to redefined its banks, and the melancholy song of a steam engine's whistle in the distance. As other sounds faded away, this work of art by Mother Nature had the same effect on me that being in a forest usually brings me; it renewed my spirit. One of the docents that we spoke with told us that this is one of the most widely visited redwood parks in California, and I can certainly understand why.
Every time I get the opportunity to visit a redwood forest, I feel like it is a privilege to walk among these tenacious titans. The thing that I love most about these adventures is that these forests have the ability to transcend time, at least for me. Finding a quiet place to sit and enjoy their sights, sounds, and smells ignites my imagination. I can envision what was going on thousands of years ago when some of these trees were just sprouts and even beyond to the primordial forests of which I know so little. This offers me the closest connection I will ever get to those distant times that led to the development of the venerable forests that I now explore with gusto.
Read more about Trish's adventures in the redwoods and find a redwood park to explore near you.