Dedicated supporters and new friends marked the League's Centennial at these festivities.
---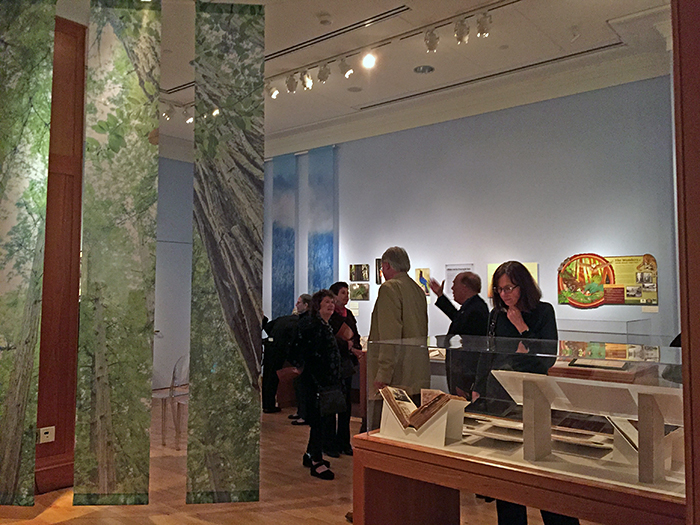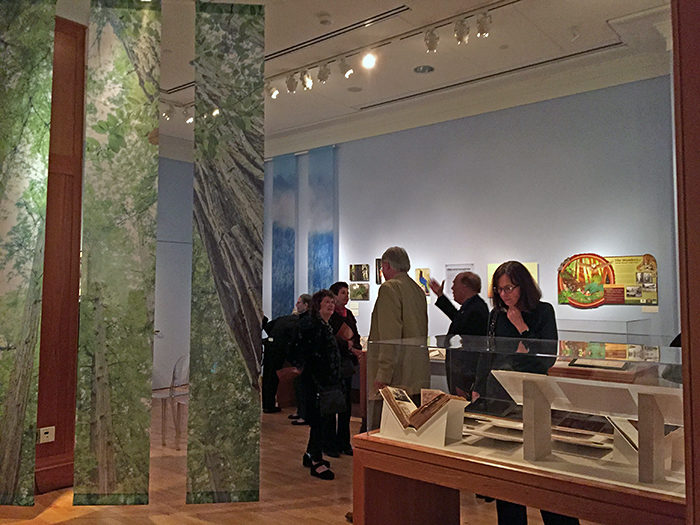 Exhibit Celebrated 100 Years of Save the Redwoods League
A hand-drawn map by celebrated naturalist John Muir. Correspondence to the League from President Barack Obama, including a photo of his family. A signed letter from John F. Kennedy endorsing a grove, dated shortly before his death.
These treasures, and more, told the story of Save the Redwoods League, and were part of an illuminating exhibit at UC Berkeley's Bancroft Library, called Sustaining Grandeur.
Read more and see a video about how a blast freezer helped prepare items for the exhibit.
---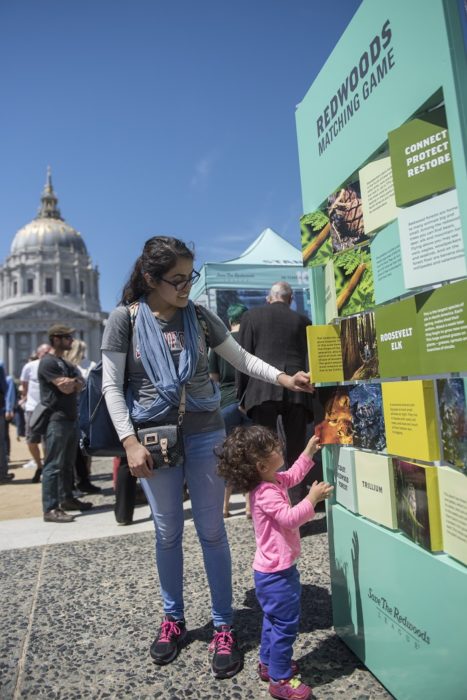 Festival Revealed Redwoods' Secrets, Superpowers, and Wonder
"The more I learn, the more I'm flabbergasted," said Daniel H., one of the thousands of people at the Annual Earth Day Festival sponsored by Save the Redwoods League. Daniel, who stopped by the League's new booth, was reacting to learning about League research that showed redwood forests store more carbon per acre than any other forest in the world. The findings confirmed that redwoods are a critical resource in our response to climate change. "We have to save redwoods to protect ourselves," Daniel said.
The April 21 festival, themed "Stand for the Redwoods, Stand for The Future," featured entertainment, food, art, and social justice organizations. In addition, the Redwoods Canopy Speakers' Tent offered interactive talks with organizations, including the League's staff, who unveiled the League's State of Redwoods Conservation Report and Centennial Vision for Redwoods Conservation.
---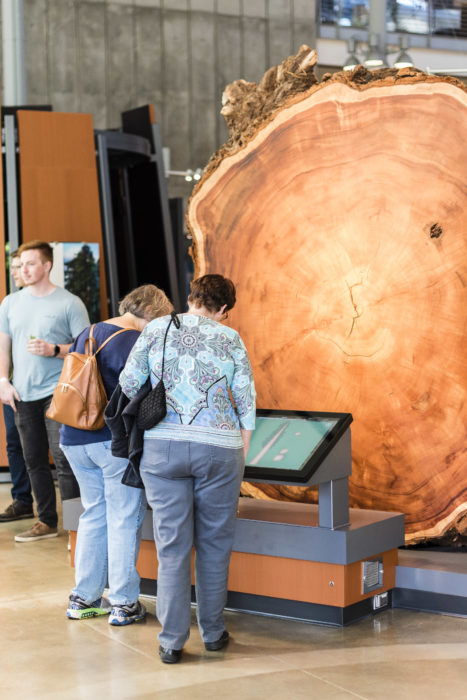 Redwoods Star in New Giants of Land & Sea Exhibit
An exciting window into the remarkable coast redwood forests is now open at California Academy of Sciences' new Giants of Land and Sea exhibit in San Francisco, and the League helped bring the experience to life. The League greeted thousands of people in June at the Academy's NightLife event, when revelers got an early look at the exhibit. In addition, our Redwood Leadership Circle and Redwood Legacy Circle donors enjoyed a reception and a private viewing at our annual thank-you event.
Save the Redwoods experts shared secrets of the forests' ecology to create part of the exhibit, including an immersive canopy-ascent video showing how League-sponsored researchers study redwood treetops.
Meanwhile, our Tall Trees Sweepstakes winners Michael M. won music festival tickets; Anthony Y. won gear from REI; and Alyssa P. won sunglasses from Sunskis.
---
Giants for Giants Game Marks a Major League Partnership
Two organizations that celebrate the giants of the West Coast are marking milestones together. As a Lead Centennial Partner, the San Francisco Giants are spotlighting the 100th anniversary of Save the Redwoods League. In turn, the League is celebrating the baseball team's 60th anniversary in California.
League members and fans joined the Giants for Giants celebration at AT&T Park for the San Francisco Giants' home game with the Texas Rangers on August 25. The Canopy Club, our premier circle of donors, enjoyed an exclusive pregame party on the Alaska Airlines Club Level as a very special thank-you. Katherine S. and Lindell A. won League gear and a bat and ball signed by San Francisco Giants players in our Giants for Giants Sweepstakes. The day also featured a great pregame ceremony on the field.
"What a monumental year for both of our organizations, when we celebrate significant anniversaries as members of the San Francisco community," said Larry Baer, President and Chief Executive Officer of the San Francisco Giants. "As a fourth-generation Californian, it makes me proud to be associated with Save the Redwoods League as they celebrate their 100 years of hard work and success. Redwoods are the original giants of the West Coast, and I'm thankful for the League's efforts to protect these amazing trees. This is truly a partnership of Giants!"
---
Event Launches Historic Restoration Project
The League, National Park Service, and California State Parks last April celebrated the official launch of Redwoods Rising, a project to restore historically logged lands in Redwood National and State Parks.
These parks safeguard almost half of the world's remaining ancient old-growth redwood forests, the planet's tallest trees, as well as imperiled salmon and trout, and rare creatures such marbled murrelets. Additionally, these ancient redwoods store more carbon per acre than any other forests on Earth.
Despite their ecological wealth and stunning beauty, these forests are far from being places of pristine, untouched wilderness. Large swaths of the parks were scarred by decades of logging, which left behind eroding roads, impaired streams, and spindly, young trees that hold neither the magic of an ancient forest nor its ecological strengths.
Redwoods Rising will greatly accelerate the pace of redwood forest recovery within these parks and help protect the area's remaining old-growth groves.
---
The Centennial celebration continues: Join us at these events.
---
Tags: Autumn 2018, Centennial Celebration, events, Magazine