California's redwood parks are world-class destinations, offering a chance to look upon the original face of nature. Nowhere else on Earth can you see trees towering as tall as a 37-story building or with footprints as big as a dance floors.
Explore Redwoods is your portal into to these magical forests. Save the Redwoods League designed this web-based app to make it easy to discover what's available in 105 redwood parks throughout California and plan an unforgettable trip. Whether you only have a few hours for a jaunt from San Francisco to the East Bay's largest stand of coast redwoods in Redwood Regional Park; or you want a brisk weekend camping trip among the old-growth trees and waterfalls of Big Basin Redwoods State Park nestled between Silicon Valley and Santa Cruz; or you're looking to venture into Sequoia National Park to snowshoe through a giant forest—adventure awaits.
Here's a look at California's great redwood regions to help you decide on your next destination.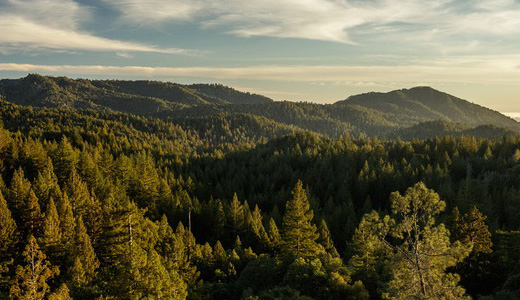 San Francisco Bay Area Redwoods
Pure, pristine nature is just a stone's throw from San Francisco, Oakland, Santa Cruz, and Silicon Valley. Hit refresh on easy-to-reach day hikes in densely forested city parks, or go off-grid on epic backpacking treks through ancient redwoods and lush, green canyons. Even the most hardened city slickers would call this bliss. Distance from San Francisco: approximately 30 minutes to 1 ½ hours by car.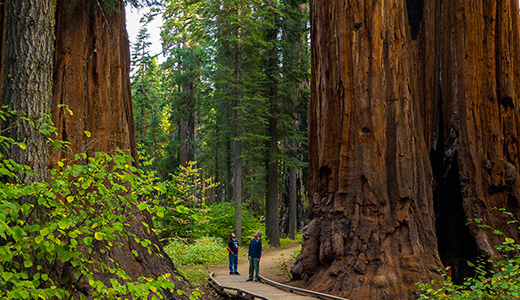 Giant Sequoia Region
Home to the most massive trees in the world, the Giant Sequoia region spans the crystalline shores of Lake Tahoe, the staggering granite valleys of Yosemite, and the soaring peaks of the Sierra Nevada. In spring, summer, and fall, hike through ancient forests, search for waterfalls, and take in some exquisite, expansive vistas. In winter, fresh powder brings opportunities to ski and snowshoe among giants. Distance from San Francisco: approximately 3 to 6 hours by car.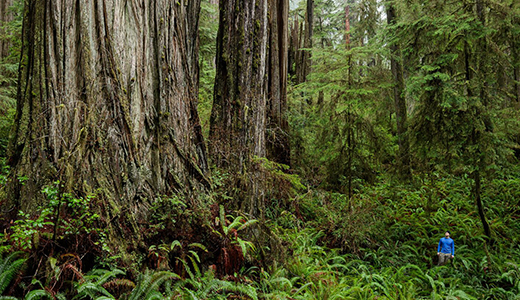 North Coast Redwoods
In the far reaches of the North Coast, three-hundred-foot tall coast redwoods stand gloriously suspended in time. This primeval forest above the clouds extends from Humboldt County to southern Oregon. In 2018, Lonely Planet named California's Redwood Coast the No. 1 destination in the country; it's well worth the trip and worthy of the hype. Distance from San Francisco: approximately 3 ½ to 6 ½ hours by car.

Central Coast Redwoods
Where ancient redwoods meet the rugged coastline, the magnificent forests of Sonoma and Mendocino counties are something out of a fairytale. From the Navarro River's tunnel of redwoods to secluded beaches with vibrant tide pools to whimsical wildflower blooms, the nature here is dense and delightful. If you want a break from the outdoors, escape to the region's famous wineries. Distance from San Francisco: approximately 2 to 3 hours by car.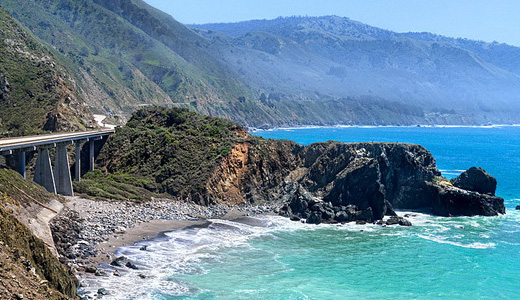 Southern Coast Redwoods
The glorious stretch of Highway 1 that breezes through Big Sur is a California classic. Wind along the dramatic coastline with Pacific panoramas to one side and towering coast redwoods to the other. Explore these Monterey county parks to find secret waterfalls, lush forests, and sweeping views of the Santa Cruz Mountains. Distance from San Francisco: approximately 2 to 3 hours by car.
---
How to Plan Your Trip
Visit ExploreRedwoods.org and start planning your adventure today. Select the region you'd like to visit, your preferred park features and which kind of activities interest you most. From there you can choose from more than 450 activities: hiking through ancient groves, camping beneath the redwood canopy, picturesque picnics, wildlife viewing, spotting native flora, traversing accessible trails, water recreation, attending seasonal events, and more. Each activity page gives you everything you need to know—directions, amenities, fees, weather, and what to pack. Add any activity or redwood park to your trip plan, then share, download, and print your itinerary and go.
Happy trails!