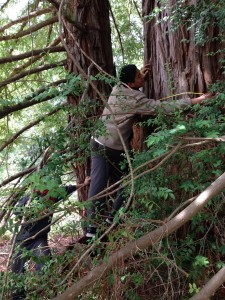 Environmental educators are always juggling what, how much and how long to teach students in nature. Do you let students explore and observe a forest on their own, or do you give them more structured activities? Do you introduce sophisticated vocabulary so that they are exposed to these words, or do you use simpler words to be sure they grasp the concepts? Should they use journals or not?
There are no right answers to any of these questions. Educators learn that every class and every student is different, and making those decisions is about reading your audience and adjusting your program to what best fits the needs of those students. Ideally, you find a balance between all the options mentioned above.
On a recent trip to the Big Basin area, I observed an environmental education program of the Web of Life Field (WOLF) School, one of the League's education grantees. There I found educators who had achieved just that balance. Seventh-grade students from Richmond, California, came to Little Basin and hiked on trails among the redwoods, sat in big meadows listening to an experienced educator talk about redwood history and ecology, played redwood tag games and conducted scientific investigations — all in three short days.
Observing all of this was such a treat, as I saw a well-executed program which had the balance I mentioned above. I watched students measuring the height and the diameter at breast height (DBH) of redwood trees, documenting signs of plant and animal life, and checking soil moisture and temperature. While conducting a hands-on activity, they learned scientific techniques and vocabulary. After their investigation they further explored the Little Basin area with a hike around the property. They could explore and observe on their own with some plant ecology thrown in there every once in a while when the students didn't notice!
Speaking with the teacher whose students were participating in the WOLF School, he expressed how pleased he was with the program. He noticed that the students were more closely bonded after the trip, and still talked about their experience back at school. He also saw the immense value in taking these students out of their comfort zone and exposing them to a natural environment with dirt, insects and hooting owls!
WOLF School is a Save the Redwoods League education grantee. You can learn more about our grants program on our education program website.