Grants foster equitable access, meaningful connections, and deeper understanding of the redwood forest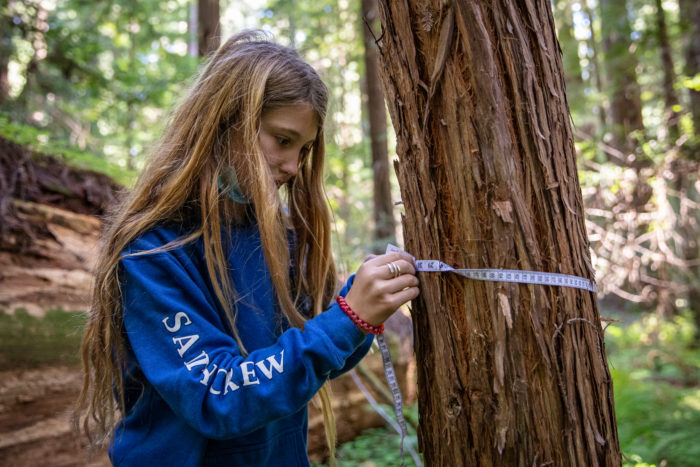 Supporters of the League tell us stories all the time of why the redwoods are so special to them. Undoubtingly it stems from a personal experience among the trees—either camping when they were young, exploring on a class trip, or hiking with friends. Feeling the cool, moist air while inside a redwood forest is something you have to experience firsthand.  
A single school field trip or outdoor family experience can have a lasting impact on youth at any age. That is why the League makes it a priority to connect youth to the redwoods through our Redwood Connect Grants, so they can experience and study these awe-inspiring forests.  
This year we are excited to announce the 2022 redwood grantees and look forward to hearing more about their outings in the redwoods. Our grant recipients come from throughout the redwood and sequoia ranges and support a variety of experiences in the redwoods including team building, health and wellness, redwood ecology, and stewardship and conservation.  
To learn more about these wonderful organizations you can click on their name below: 
Boys and Girls Club of San Francisco – Redwood Forest Weekend Immersion for San Francisco underserved youth 
Camp Phoenix – Camp Phoenix and the Coastal Redwoods 
Coastal Watershed Council – Watershed Rangers Summer Camp 
Eel River Recovery Project – Native Youth Connect in the Redwoods 
Exploring New Horizons – Outdoor Educational Equity 
First Place for Youth – Summer Bridge Program 
LandPaths – Vamos Afuera 
Robert Randall Elementary School 
Vida Verde – Vida Verde Redwoods Education, Exploration and Immersion 
WildCare – Redwood Discovery Nature Hikes 
Wilmington Teen Center – From the Barrio to the Big Trees 
Winters Middle School – Funding Outdoor School 
Youth Spirit Artworks – Redwood Councils Community Building Project